September 23, 2016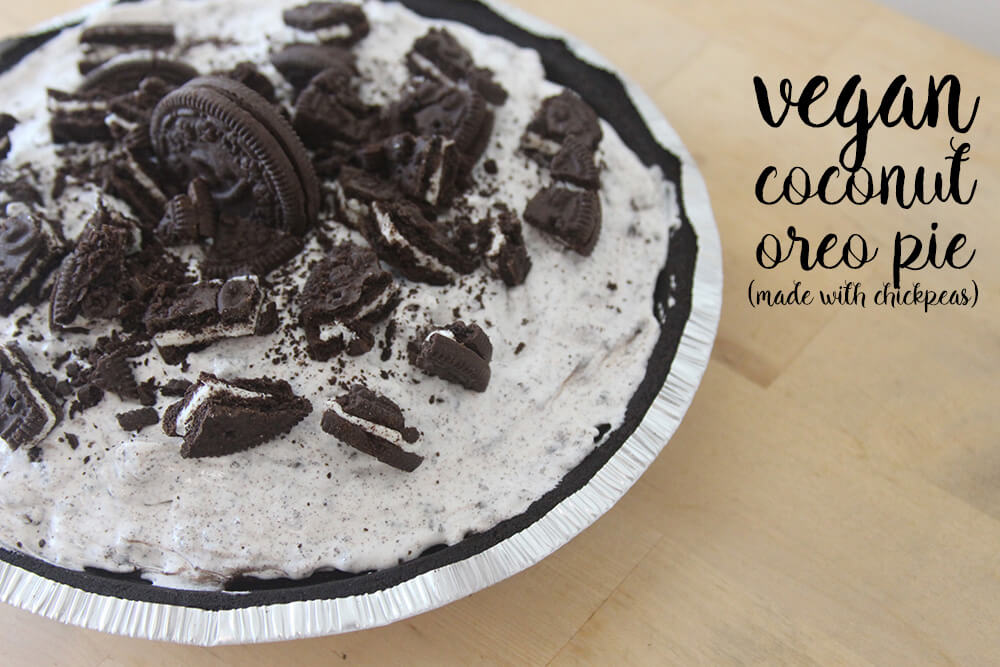 I've been sitting on this recipe for awhile now. It came about early on in my pregnancy when Jon and I had two different family get togethers back to back. We are pretty big home bodies. We are both introverts and usually need a day to relax and calm down from family get togethers. This was going to be a VERY busy weekend. It would involve me running to our CSA, quickly go grocery shopping, and then cooking something for party number one.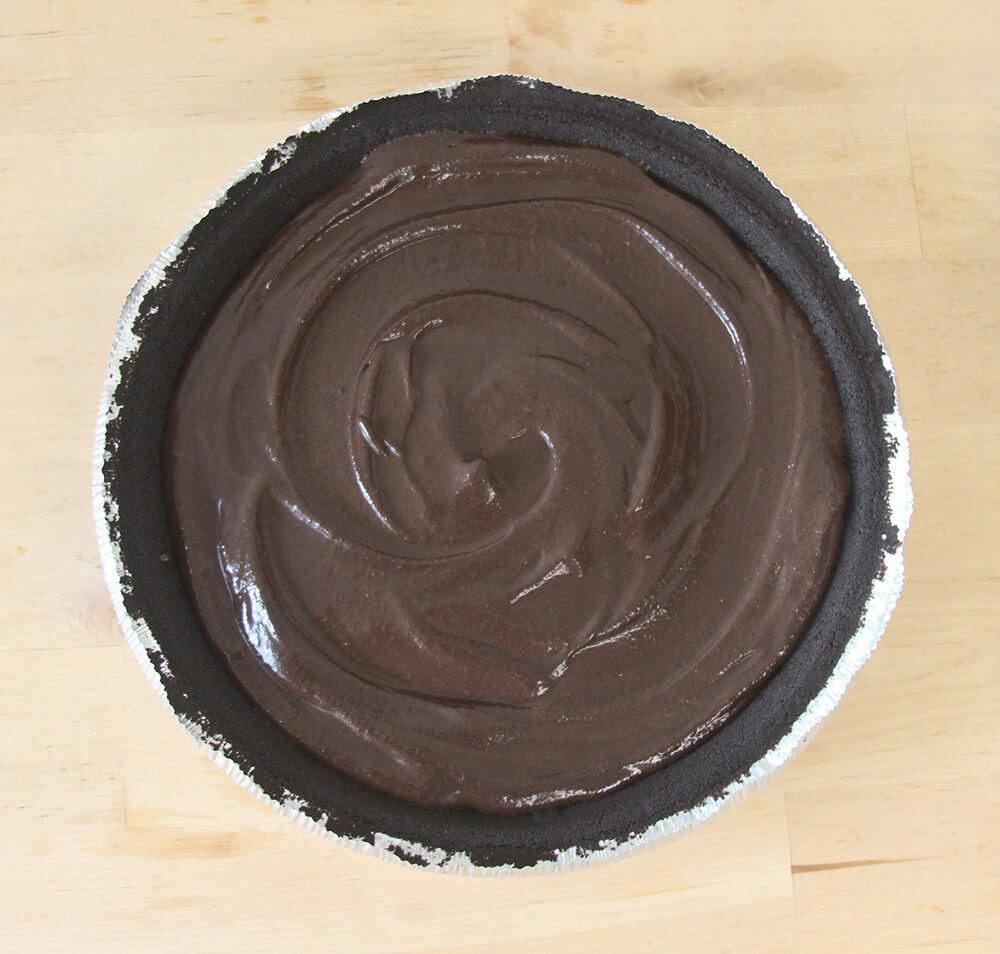 But being pregnant I kind-of wanted a dessert. But I didn't have much time to prep anything. I remember loving the No-Bake Dark Chocolate Chickpea Pie with Pretzel Crust from Pickles and Honey, but had a craving for oreos cream filled chocolate cookie sandwiches. I also didn't have some of the ingredients on the list and didn't have the time to go to Whole Foods to get them (read: cocoa butter and coconut sugar.)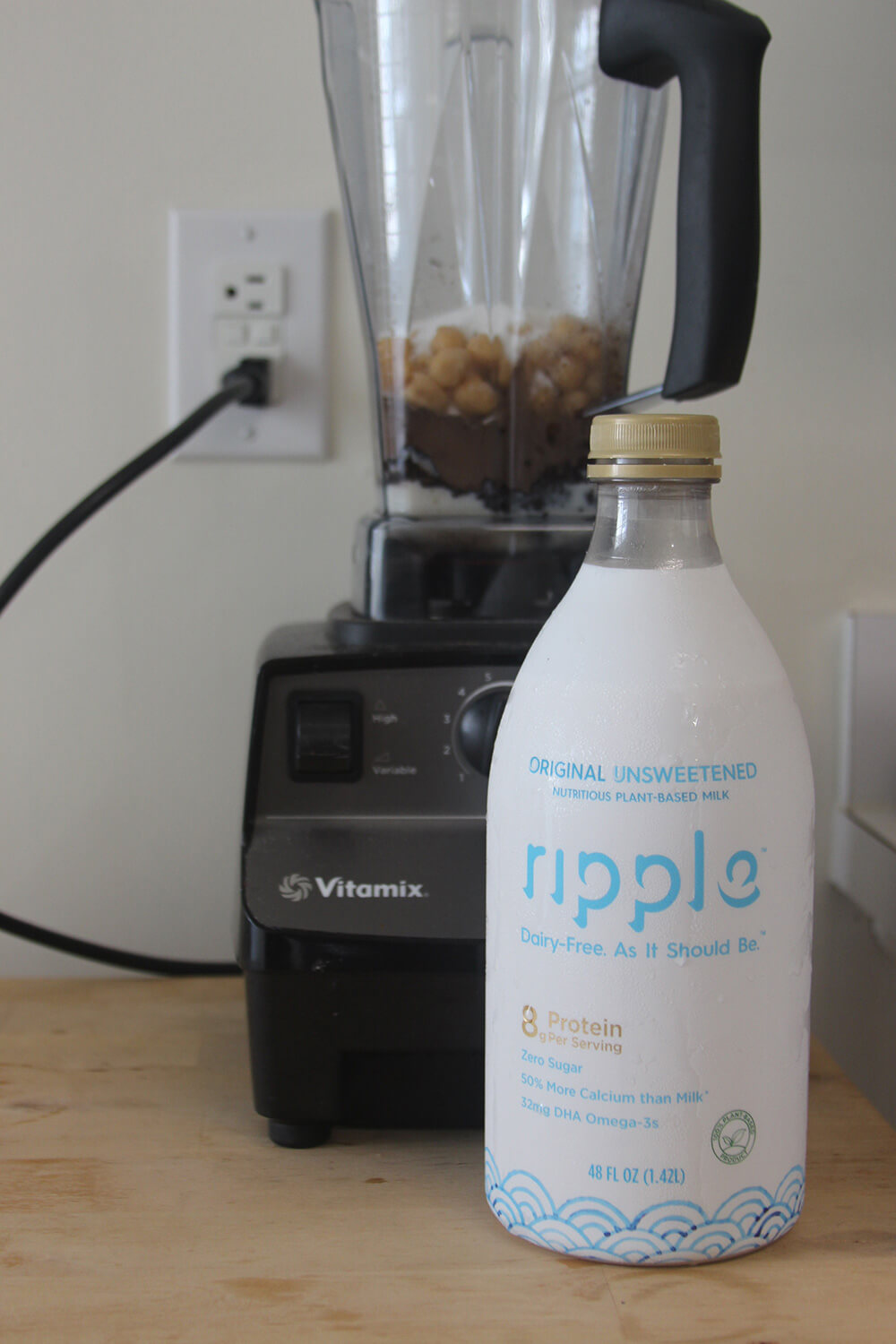 So I decided to make two pies, which worked out wonderfully. Everyone loved the pie, and I got so many people asking what made it vegan. Chickpeas! Funny thing is that I have no idea how to make these type of no bake pies without vegan ingredients (pudding mixes?) It has always been beans and tofu for me. No one could even taste a hint of bean-y-ness to the pie. The big kicker? All the "tweens" went to town on the pie since they never heard me utter the word chickpeas in their presence. Most came out to the adults to say how much they loved that pie.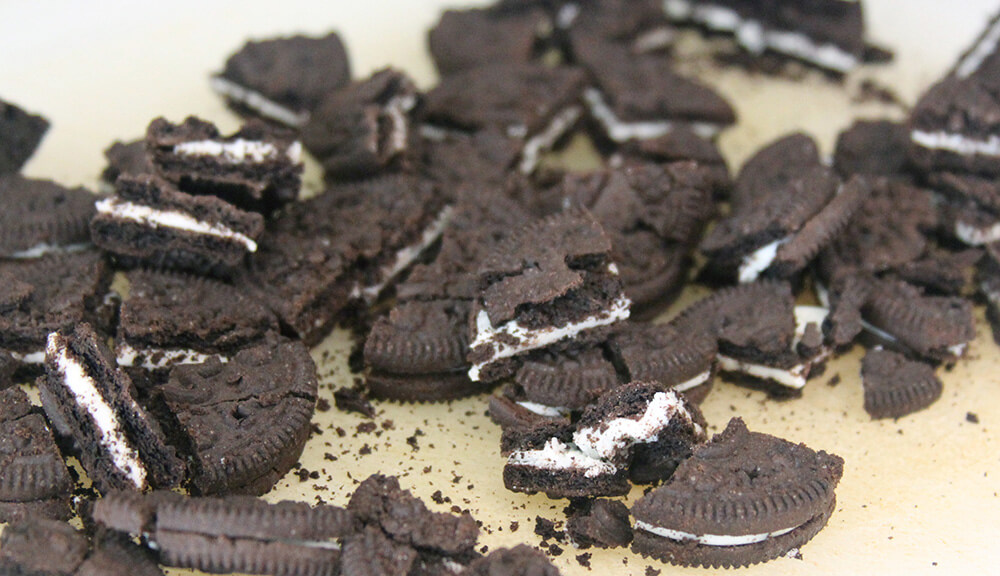 So how did I make two pies on such a tight schedule? Well, there was a lot of cutting corners. One is that I bought pre-made pie shells. I picked up the Nabisco Oreo brand pie crusts because it was the only vegan chocolate pie crust option at my local grocery store. You can make your own pie crust just by googling oreo pie crust or just making a chocolate cookie crumb crust. What I do like about the ready made pie crusts (other than saving time) is that you have a plastic dome that you can use to cover the top of the pie for traveling.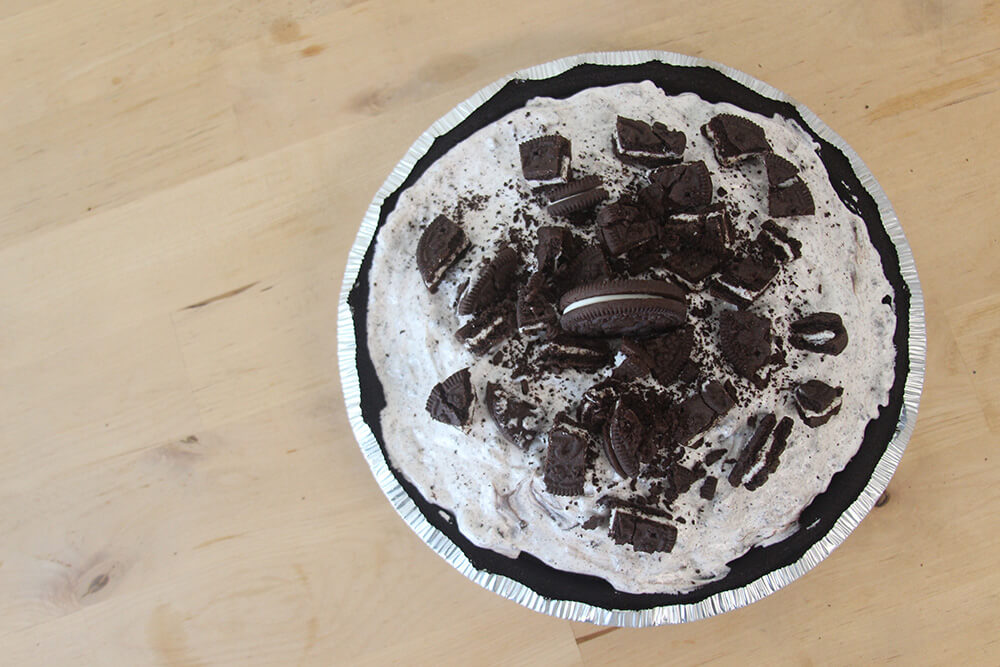 I also cut time down by using cocowhip. Make sure you plan ahead so you can thaw the whipped cream. One container makes the perfect amount for two pies, but below I will give the amount to use for only one pie (because you rarely need TWO pies.) You can double recipe if you like a lot of whipped cream on your pies if you want. But the whipped cream topping is where most of the "cookies & cream" flavor is coming from since you beat the sandwich cookies into the whipped cream. And naturally you could always make your own rad whip or coconut whipped cream.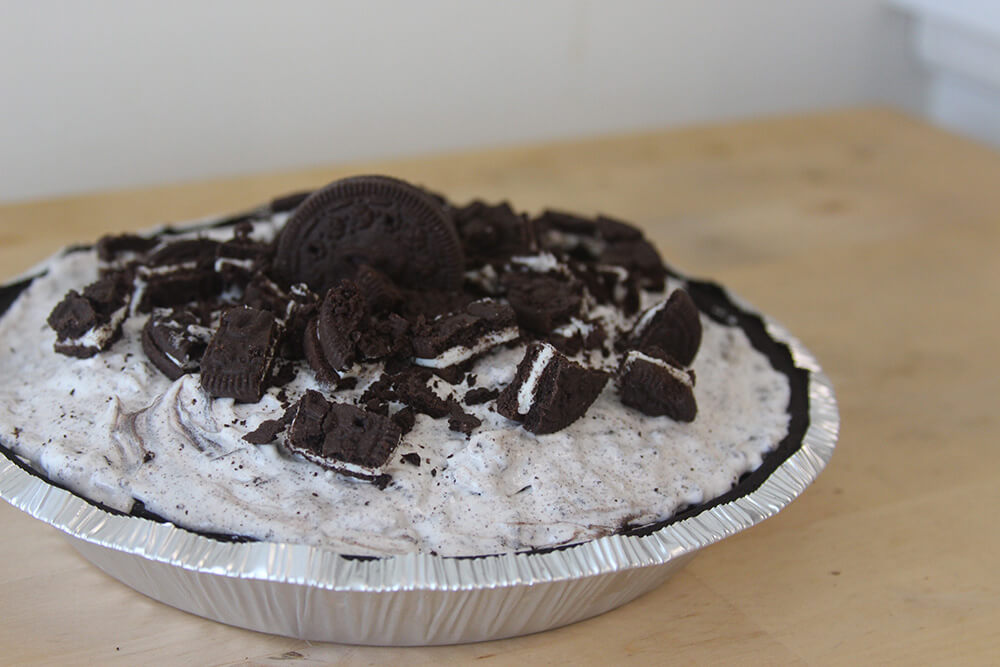 The last reason this pie is so quick to make is because you just need to blend all the ingredients in the filling, and that's it. I strongly suggest that you use a blender not a food processor since a blender will get smoother results. I recommend putting all the ingredients into the blender as I have them listed since I had the best blending results (aka less times I need to stop and scrap things around.) The recipe is largely similar to chocolate chickpea filling on Pickles and Honey, so I recommend checking that recipe out if you want something less sweet.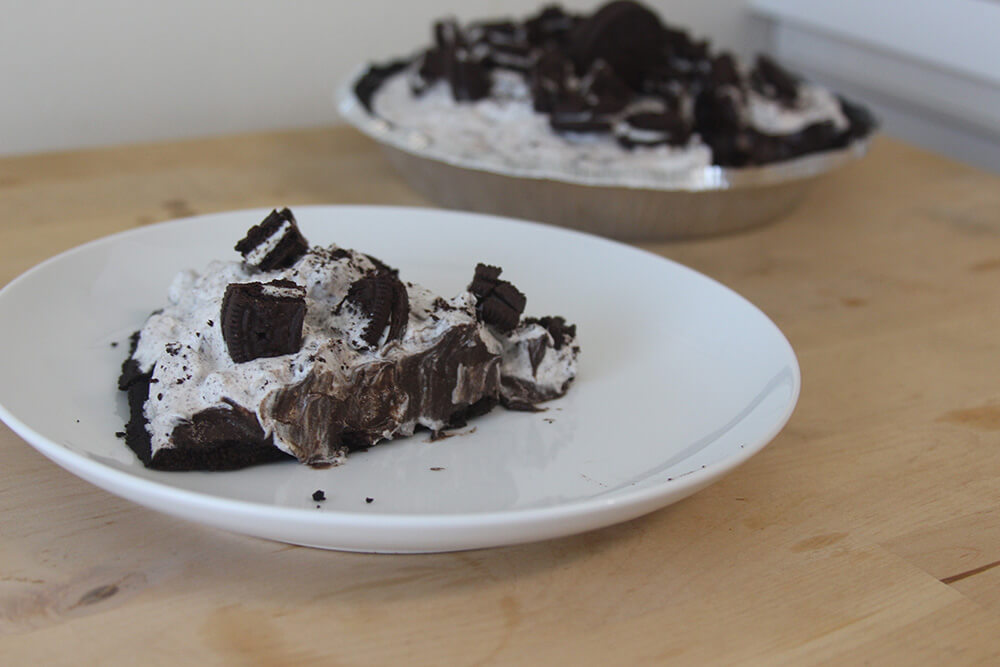 The pie can be eaten right away, but I suggest letting it sit in the refrigerator overnight. The chickpea filling naturally thickens up a little so you get cleaner cuts. I didn't wait long enough for the photo (oops!) and got a more squished slice. Yikes! But since it is so easy to make, you can easily impress family members with your crumb decorating. I know I had a few family members saying "You made this?" with an air of surprise. Not sure why… maybe it didn't seem like something I would make?