October 20, 2014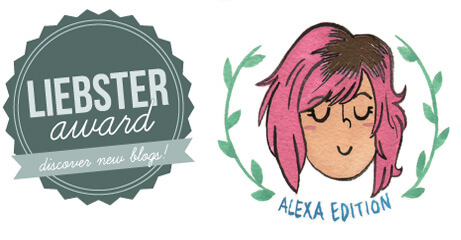 Hello everyone! Co-Blogger and Partner-in-Crime Jenny had nominated me for the Liebster Award and I couldn't be more excited! Jenny made her Liebster Award post here a little while ago – but for those of you who didn't get to see it, I will break down the rules nice and simple for ya.
Rules:
List 11 facts about yourself
Answer the 11 questions given to you by whoever nominated you.
Nominate 5-11 bloggers with LESS than 200 followers.
Give 11 new questions to your nominees. Now, I don't know too many bloggers outside of Jenny – but I do know a few. So hopefully they will be able to answer my questions when I get finished with this.
11 Facts About Meow
1. I am a Cartoonist & Illustrator while also working as a manager at my local Toy Store.
2. I didn't really like beer until I started dating Mr. Ian, now I like it way more than mixed drinks.
3. My parents are both divorced and re-married, making my family tree somewhat difficult for new friends to understand. But I wouldn't have it any other way.
4. I have recently had to remove most dairy from my diet, but the one thing I will ALWAYS cave for is ice cream…tummy aches here I come!!
5. I stopped eating any sort of cow-related-meat in 8th grade when I realized that I just love cows way too much.
6. I first thought that I wanted to pursue a career in animation, but saw just how much work was needed to be able to pull it off correctly and knew I wouldn't have the drive. I respect animators so much! I then thought I wanted to draw for Marvel or DC Comics, in the same style and everything. Once I realized that I simply can't re-create those looks in my work I also came to find that I wouldn't like working for either company as much as I thought (still love a bunch of the people who DO work there though!!).
7. I got my cat Miso for my 16th birthday and she has since become my cat-baby. Best birthday gift ever!
8. My favorite mediums to work with (on my artistic projects) are colored pencil to sketch and watercolor or gouache to paint.
9. There are SO many different tattoos that I would like to end up getting in the future, I am just too poor right now. They include outlines of the silhouettes of my 3 house cats on my right arm, Blaze's halter and lead rope on the opposite arm, a friendship tattoo with Jenny, and a giraffe on my back.
10. Mr. Ian and I have officially been together for 5 years! Go us!
11. My favorite color is red, my favorite color combos are black & white (so classy!) and pastel pink, lavender and mint green (so cute!).