September 22, 2016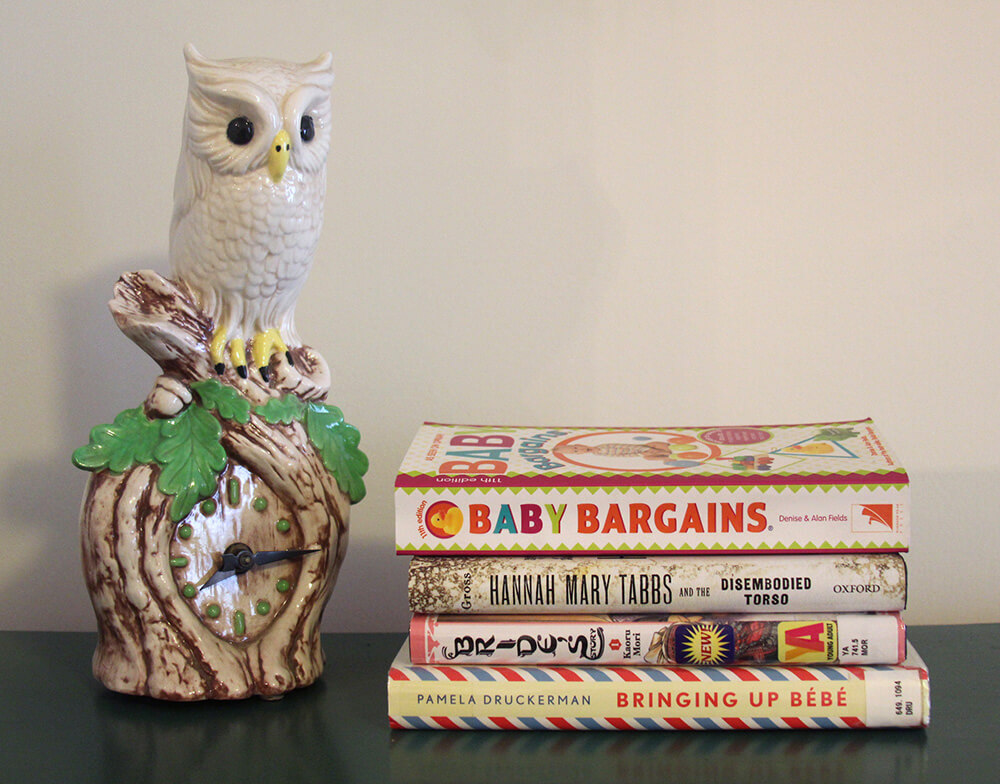 What I am Currently Reading
The Developing Human: Clinically Oriented Embryology – This was a birthday gift from my Mother, yup, leave it to her to buy me a medical textbook (she is a neonatal nurse practitioner). I have already learned a lot of new things, and put some of my AP Biology terminology to use.
Rosemary's Baby – I love the movie and thought now would be the time to read the book. Good news, my husband isn't best friends with our older neighbors, so I think I am safe about not having a devil baby.
What to Expect When You're Expecting – Still working on this. Read up one month 7, and will start advancing to the delivery chapter to know what to expect. Yikes things are coming up soon.
What I've Read
Baby Bargains: Secrets to Saving 20% to 50%
I know this book is very baby centric. I was going to keep baby books separate from my reading lists, but I thought why not just plop it in here. It was like my own little Finnegan's Wake– kind-of painful to read (so many strollers… so many baby seats… ugh and the mattresses!) I didn't read it front to back, but read a major chunk of the book. It is pretty obvious what it is about- pretty much a published version of Consumer Reports. What I like about the book is that they give recommendations of what to look for in quality, which might not be so easy for new parents. Like what mattresses are the best? What should I be looking for in strollers? I certainly would of dismissed some of the recommendations they made before reading the book.
I also love that they help filter through the "must haves" and the "don't needs." While putting together the registry there were lots of recommended items to add such a baby walkers, DVDs, and too many different items of clothing. The book kind-of breaks down how many they suggest you buy which made me feel a little better to have a more realistic number. I didn't want to come off as too greedy on my registry.
Downside? You can research and research but sometimes it can be too hard to put all of the "best" in one registry. Many products are exclusives to some companies, which is partly why we registered at two different places. But it was nice to see some cheaper brands were recommended (hello Target!) It definitely helped discourage us from getting certain products. I was really jazzed about those smart phone monitors and the reviews were very "meh." I am thinking the products will get better as they become more popular, but the reviews showed that they were inconsistent.
Overall I think this is a must have for any pregnant ladies. If a friend announces that their pregnant, this would be a great little congratulations gift, even if they aren't "strapped for cash." They do reviews for those super pricey items and will tell you the flaws and the perks, which companies have reliable products, and which crib companies get recalled the most.
I read good things about this series so I figured I would give it a try. Especially since I was checking it out from the library rather than actually buying it. I have some mixed feelings about it, but overall decided not to continue reading the series. It just didn't really jive with me.
The story is about Amir Halgal, a 20 year old from a nomadic tribe who marries a 12 year old boy. The story takes place on the silk road, and talks about the cultural differences between Amir's nomadic upbringing and her new husband's, Karluk, farming family. The story centers around Amir's blossoming relationship with Karluk and his family and teaches the reader about the lives in Central Asia.
Good Things: The art is amazing. A quick google search will show you tons of a pictures from the manga, and all the fine details. I also enjoyed the unusual setting. I do not know much about Central Asian tribes, but the story seems to be pretty accurate. The story isn't just about Amir and Karluk, it is about the whole family. The idea of a 20-some year old woman marrying a young boy seems a little far fetched, but shows how poor Amir's family probably was.
Bad Things: I think overall I wasn't so interested in the series since the story just wasn't strong enough. The focus seemed to be on how different and exotic the lives are for the main characters rather than complicated family dynamics. Sure there are some small little stories for each chapter, but there just didn't seem to be enough high stakes to draw the reader in. This is ultimately why I think I dropped the series. It is pretty long, and from what I can see from reviews, it evolves more to be able the family as a whole, but mostly focuses on the women. So I could see myself really liking the series over time, but I have too many other things I want to read first.
Bringing Up Bébé: One American Mother Discovers the Wisdom of French Parenting
I saw this book on GrrFeisty and thought it looked interesting. The book centers around an American (actually it sounds more like Jewish New Yorker) who moves to France to marry a British man. They have kids and find there is a big cultural divide between the children in France and the children in England and United States. I was really interested in reading this book because I have even noticed differences between children in urban environments and suburbia within the United States. I even noticed a difference between the children in on the East Coast compared to the kids I met when staying in Utah with my parents.
The book is well researched but is overall littered with opinions and generalizations. I don't mean this as a negative, just something a reader should be aware of. Apparently many readers found the book as an attack on American childrearing, which I didn't take that way. I think there were many instances that the author openly criticized the French on how they bring up children.
So what makes the French different from Americans? Well, it seems the overall theme is that it is the parents duty to make sure that they balance their personal needs with their children's. You might be thinking "duh" but the ideas are slightly different how we think about this idea in the United States. It is important for parents to have time to theirselves, like sending kids off a week or two at a time to be on school trips or with Grandparents (something I did when I was little but husband never did.) There is also a big stress to teach kids how to act in society, including manners, living within common schedules, not being loud in public, etc. And above all, it seemed that most French parents viewed it their responsibility to "teach" rather than "discipline."
Then there was my favorite chapter- teaching kids to be diverse eaters. This is something I think is super important. It is the main thing that irks me about American society. Children are so picky and their choice in food stinks. Heck, there are also so many adults who keep their picky habits as adults. Sorry if you are full grown adult you shouldn't be picking around the beans in a dish that a friend cooked for you. The book does not imply this is an easy thing to teach kids. I know I was a picky eater when I was little, but my mom was persistent and I learned to eat pretty much everything. It is also something I take to heart as an adult.
I loved the book except for the body shame-y beginning. There was a lot of talk about how Americans view pregnancy as a time to binge on food. And it depends. Historically speaking doctors would actually discourage as much weight gain as possible. But slowly doctors figured out that women who gained more weight were more likely to have healthier babies. So now we have the recommendations of 25-30 lbs of weight gain. Now, some people view pregnancy as a way to indulge, but doctors seem to stress on eating well. It makes sense, but when my pregnancy app is flooding with daily articles about learning to skip dessert, increase my protein (but don't forget those grains!), tips on how to gain weight, and even tips on how to slow weight gain it is overwhelming. I get what the author's point is about keeping "thin." In the United States parents put their bodies and lives second. I hear many stories of people who become very out of shape after having kids and only take up exercise again 10 years afterwards. We need to take care of ourselves. But in some parts Druckerman implies that France has great prenatal care, giving validity to all the French women who drink and try and stay thin while pregnant. The large infant deaths in United States (compared to France) probably has less to do with prenatal care and more with infant care. In fact France has GREAT care for children that is provided by the government for various income brackets. Man was I green with envy reading it.
I think this is a great book for anyone who might feel a little weird about American kid culture. I think trying to adopt some of the styles of French parenting styles can work in an American environment. I think the negative parts of French culture can be balanced with the good parts of American culture. Can you enjoy this book without having kids? Probably. Though I think you might have a deeper appreciation for it if you are expecting or planning to eventually have kids.
**Also note- I write American, but Druckerman does talk about English speaking countries, implying many child rearing techniques are found in England AND the USA, and possibly Australia and Canada.
Hannah Mary Tabbs and the Disembodied Torso: A Tale of Race, Sex, and Violence in America
After all the babies and marriage books, I read this- a true crime non-fiction book about a woman who chopped a man up into pieces. Nice balance right? I am not a huge true crime fan. I enjoy a good True Crime story, especially one that is creepy or full of corruption. But I don't actively seek them out. I found out about this book after listening to the author on the podcast Stuff You Missed in History Class.
The book takes place in Philadelphia 1887, a headless, limbless torso is found in a river. The police force has a hard time telling if the body is of a light colored black man or a dark toned white man. This leads to a lot media speculation over the race of the body, and puts the dead body on the police force's priority list. The police identify the body and narrow their search down to two suspects- Hannah Mary Tabbs, a black woman, and George Wilson, a half white half black man.
Author Kali Nicole Gross focuses the story on the facts and explaining the racial views of society. She paints a great picture of why story was so sensationalized during the time, most were from where the body was found and the race of the victim and culprits. She is thorough to talk about the politics of the police force, and why corruption in the government might of swayed the decision of the court. She does this without making the book seem dry, which is pretty hard. But most of all she avoids doing too much speculation, only giving her opinion about who actually committed the crime.
If you live or lived in Philadelphia you will be happy to read this book. I enjoyed reading how the different areas changed over time. There are maps in the book showing all the road and alley ways, most of which are now gone. There are labels showing all the different wards, which are never referred to in modern Philadelphia. As some point I think it would be fun to take a walk around the city hitting all the different important locations in the book.
I am trying to keep this review short since I don't want to give away too much of the details. Going in with a pretty blank slate will really make the read much more interesting.