January 13, 2018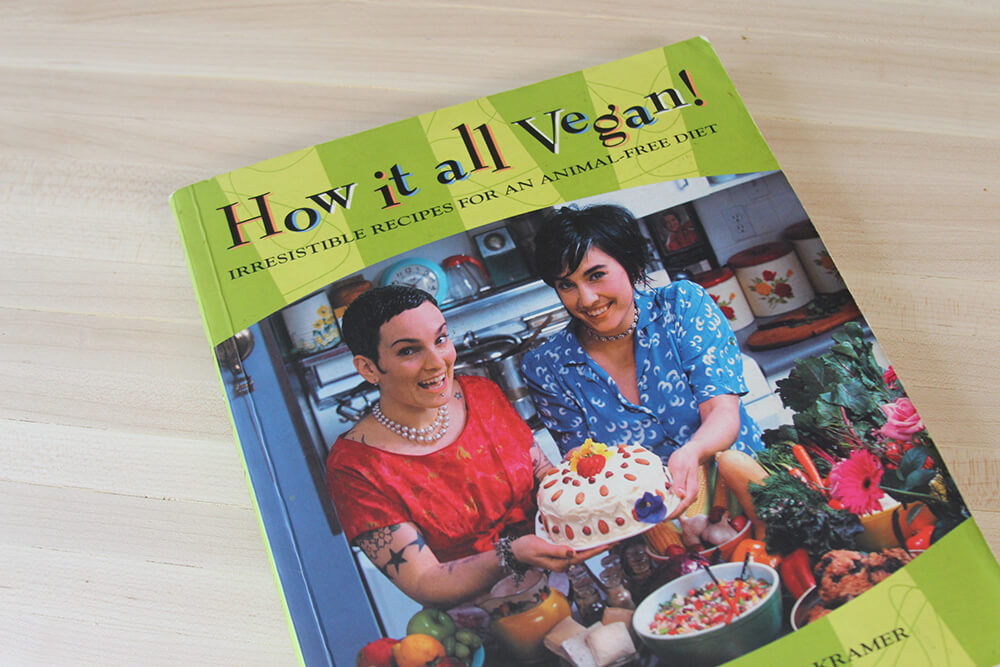 Shop on Amazon or Barnes and Noble
I originally started this post two years ago. It was suppose to be for a Vegan MOFO prompt. I am not 100% sure what it was, but it was something like "favorite cookbook" or "show us your cookbook collection." I figured I would do a quick post about this one. Well, considering this was my very first vegan cookbook and I've owned it for over 10 years, it has had a few recipes made from it.
After reading Jenny Marie's cook-a-long monthly challenge, I thought yeah, I should finish this post. In the spirit of this post I figured I would share some posts reviewing the book as well. If you have a blog with a review, leave a comment and I will add you to the list. And as always I try and share links to recipes. Most of the time I try and only share recipes that are sponsored/approved by the publishers but I went ahead and linked every blog, livejournal, and whatever that had her recipes. It was a different time on the internet back in 1999, and well, I think it is in the spirit of the book to share all the vegan love.
Vegan Kind – Kittens Gone Lentil
Photos
None. A big downfall of the book, I know. There is no photos of the recipes, but there are some retro stock photos at the beginning of the chapters. There are some fun retro styled clipart throughout the book. The green and greyscale design does keep the book visually interesting. This never bothered me much since photoless cookbooks I think were much more common at the time, before the blogalution
Set-up
What I love about this book is that it is very "zine"-y. I might not of known much about zines when I first picked this up, but I loved how personal it was. It didn't start with a chapter how they were chefs, or their relationship with food, no it was about why they became vegan. I think this was the first time I'd ever actually READ a cookbook.
After the introduction of why Tanya and Sarah went vegan, the book goes into a quick substitute section, giving readers a rough idea of how to modify non-vegan recipes. The chapters then go into various different food types, breakfast, soups, drinks, entrees, etc etc. Then instead of ending with desserts, the book continues with various little recipes and tips for raising vegan kids, and other hacks that are vegan but aren't food related. My REAL favorite part of the book was the list of non-vegan ingredients.
Writing
As mentioned the charm and shortcomings of the cookbook can be credited to their zine roots. On Sarah Kramer's website, she says how she and co-author Tanya made homebound recipe zines for friends and family. After the positive feedback, they decided to try and publish a book. This book reminded me of the cookbook my older sister made to raise money for her sorority. These are recipes made for people who are cooking in regular old kitchens, with budgets, and limited time. The ingredients are practical, instructions are easy, and everything is easy to modify for personal preference.
But since Sarah and Tanya are not chef's there are some holes. Some recipes are overly simplified, or not as good as what they could be. And some of information is a little vague, or at this point outdated. For example B12 is listed under non-vegan ingredients, when I am 99% sure almost all B12 supplements are vegan (well, the B12 part, the capsules might not).
And then she has the whole breads section saying yeast is bad. It is a little confusing, as they recommend sourdough starters. Spoiler alert- that's yeast! I get it. There are lots people who think instant yeast isn't as good as sourdough, but that isn't communicated in the book. Plus they give recipes soda breads, which doesn't fix the active yeast problem. This blog post is really good at explaining the theory about why instant yeast isn't the greatest. She also says kamut is a great wheat replacement. It isn't. It is just a different STRAIN of wheat. It is easy to give her a pass since the internet wasn't so expansive as it is today. Answers weren't as easily a google search away.
Overview
As I mentioned- I've had this book for over 10 years, and we are getting close to their 20th anniversary! I would love to see a big book revamp for the occasion. New photos! Updated information (as mentioned with the bread thing)! Anything really. It looks like their 10th anniversary release didn't have that much changed other than a pretty little logo on the front.
As much as I love how down to earth and un-intimidating this cookbook is, so much has changed since it's release. Veganism is much more common, probably thanks to blogs. Oh blogs, you have given us so much in the publication front of cookbooks. They are both a blessing and a curse.
One thing I am loving about How It All Vegan over most modern vegan cookbooks is how much information this has. Just little bits of stuff in the kids section, lots of homemade toiletries, and cleaning tips. I would love to see this book become more trendy to reach a wider audience. Come on Sarah Kramer! I know you can do this! All that being said, I think this book is still super useful, and every new vegan could learn a lot from this book. It is easy to flip through, and it easy to add your own personal flair to all the recipes.
Recipes
I do warn anyone who wants to see what I made from the book. THERE IS A LOT! I know I've made even MORE in the book, and boy I don't even feel like I scratched the surface. There are LOTS of recipes in the book. I've made more than what I wrote about for sure, but I don't remember the results. I know I've made more her desserts, but I'm a little fuzzy on the details.