January 21, 2015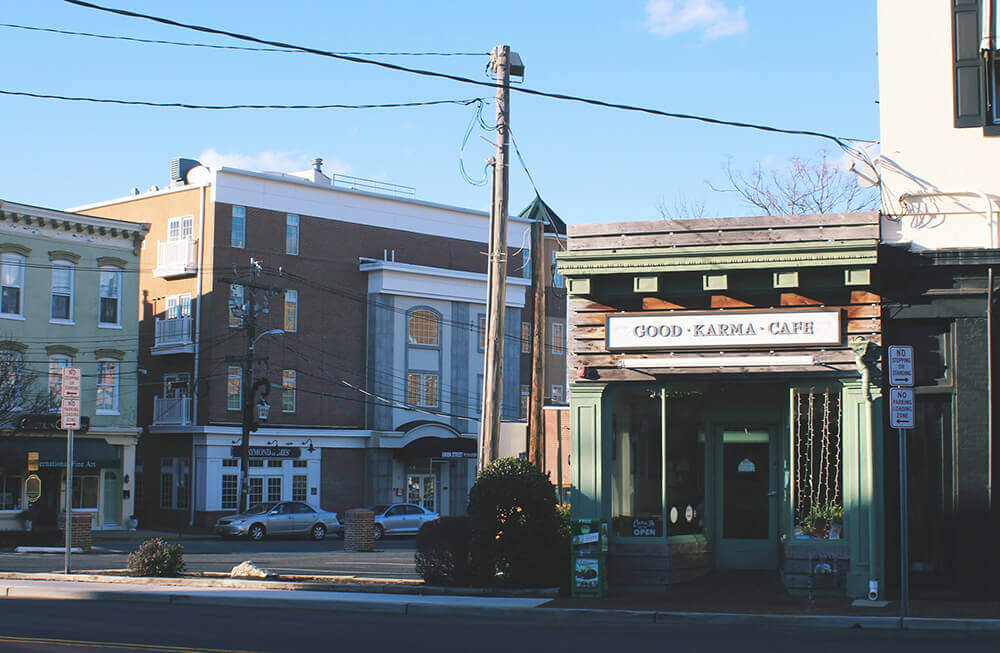 Good Karma Cafe
17 East Front Street, Red Bank NJ 07701
website | instagram | facebook
I've been wanting to check out this Cafe for a few years now, but every time I went to visit Alexa, the store always seemed to be closed. What a bummer! But we kept being persistent and waited till one day we could go and have it still be opened. Alexa has visited this restaurant on several occasions without me and is quick to note that this place is usually very busy. When we went we came during off hours and had the place pretty much to ourselves.
Good Karma serves a completely vegan and partly raw menu. The set up is more for grab and go cuisine, which keeps the price points cheaper for the meal. They divide the menu by snack/apps, salads, sandwich/wraps, entrees, raw foods, kids, smoothie/juices, and desserts. There is a lot to choose from, but some dishes overlap. For example there is a salad and wrap that both use BBQ tempeh. This keeps prep work to a minimum but gives customers lots of options.
We sadly, didn't try any of their juices or smoothies but their juicing machine looked impressive and would deliver a great juice. Important? Yes, I've been to many restaurants that have juicers that leave pulpy drinks and charge an arm and a leg. In fact I thought their drink prices are fairly priced considering pre-made juice from Starbucks is pretty much the same price.
By the time Alexa and I got in we were pretty hungry, so we got a sandwich and a wrap respectively. Alexa got the Bahn Mi sandwich served with seitan instead of beef, pickled veggies, sprouts, and a delicious jalapeno aioli. This was Alexa's first Bahn Mi sandwich so she couldn't compare it to anything, but it was delicious regardless.
Alexa's note: I loved this sandwich. Everything tasted fresh and the sauce on the seitan was delicious. I'm usually more partial to tempeh but this item seemed too good to pass up. I think the only thing I would do next time is maybe request it on a wrap. This may sound sacrilegious but if there is too much bread then I get distracted from the rest of the food. I also have a very small mouth and cannot fit a real bite in…the bread was really good, but I personally would have preferred it to be all wrapped up together. I also loved the use of the sprouts – which may sound odd, but dishes that I usually happen to order have sprouts as a garnish. Let me tell you, those lil' guys are a really refreshing addition to this item!

My main go-to dish at Good Karma is the Pineapple Mango Tempeh. It tastes great even as a takeout dish (and I would like to mention that I've never had a bad take-out experience with Good Karma), which is normally how Mr. Ian and I get food from here in the first place. That dish is a great mix of savory and sweet and includes coconut crusted tempeh in a pile of brown rice with seasonal veggies. The sauce on this dish is a creamy coconut Thai sauce and it's almost like a curry. I feel bad because I want to try pretty much everything on their menu but this one just keeps reeling me back in! I also think it's a good jump-start for anyone who hasn't had vegan food before.
I got the BBQ Tempeh Wrap, which had tempeh, lettuce, cabbage and carrots wrapped up with BBQ sauce and a chipotle aioli. This was an amazing wrap full of flavor and a great protein to veggie ratio. The wrap held together while I ate it so no sauce covered my hands.
Both sandwiches came with a side salad where you can pick your dressing. We both picked the carrot ginger dressing. I personally found the dressing tasty but hard to toss in the salad since it was more like a puree. It probably would of been better pre-tossed, though I understand the reasons why they don't.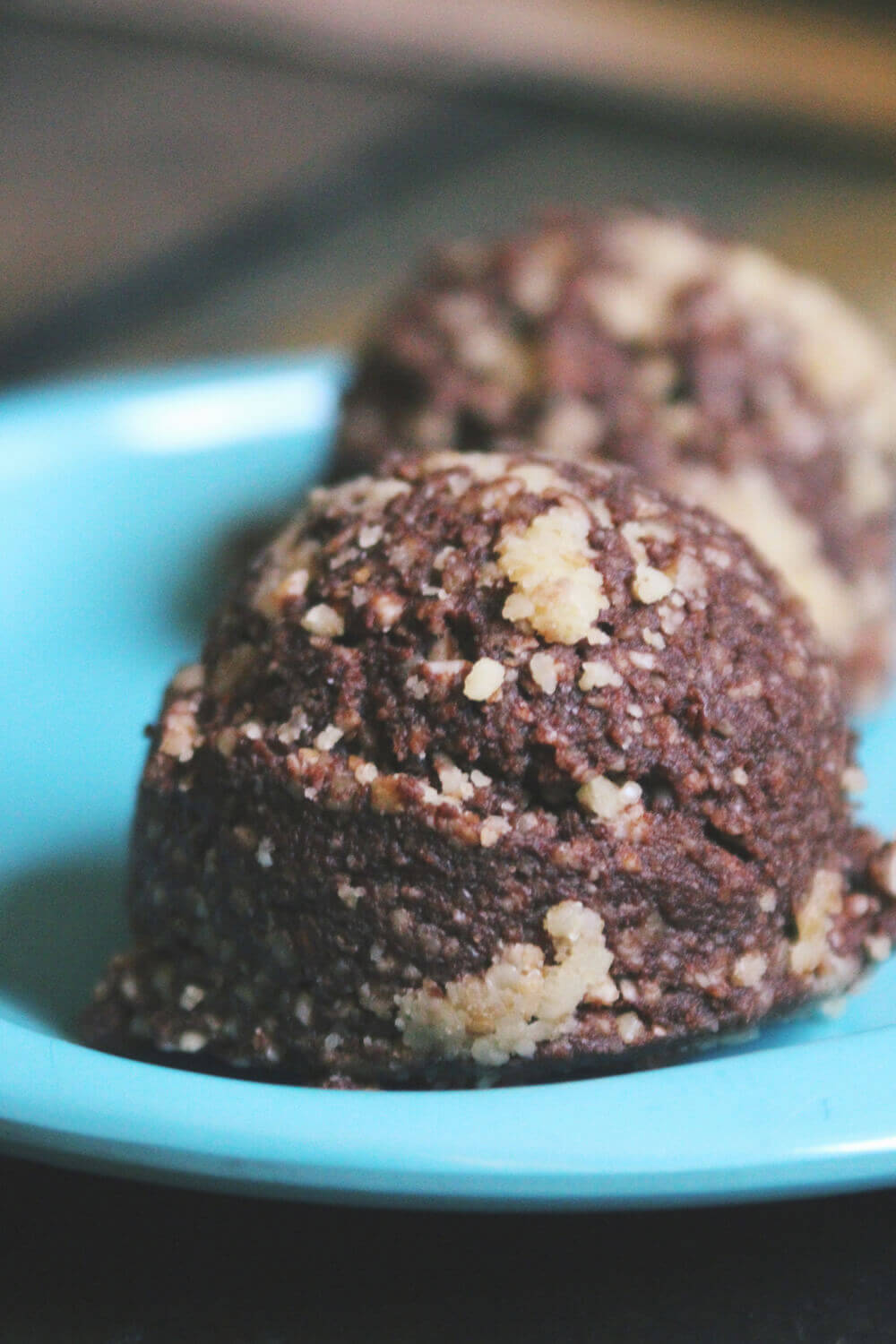 After we ate I picked a dessert to go home with. I picked their raw brownies since I didn't get a chance to eat any of their raw foods. They were pretty amazing, and well balanced between sweet and bitter chocolate. The brownie also had a nice occasional crunch from the walnuts. It was also nice to bring home a dessert to eat the next day.
Alexa's note: I once brought home a raw macaroon from Good Karma and that was really good as well. I am always interested in trying out their baked goods but am always too full after eating and can't even think of putting anything else into my tum-tum. While they are not normally my favorite desert I would definitely recommend the macaroons as well.
Overall I have to say that Good Karma is great for no-fuss eating. If I lived in the area I probably would order take out often from the place. The prices though, might seem a little high but are probably average for the area. So keep that in mind if you are visiting from out of state. It is also worth noting that I am pretty sure their prices have changed from the menu listed on the website. There might be a change from the drinks they serve as well.
What should you eat when you go? Well here is the list of favorites from Alexa and Jen
Raw Brownies
Barbeque Tempeh Wrap
Bahn Mi
Pineapple Mango Tempeh