June 5, 2015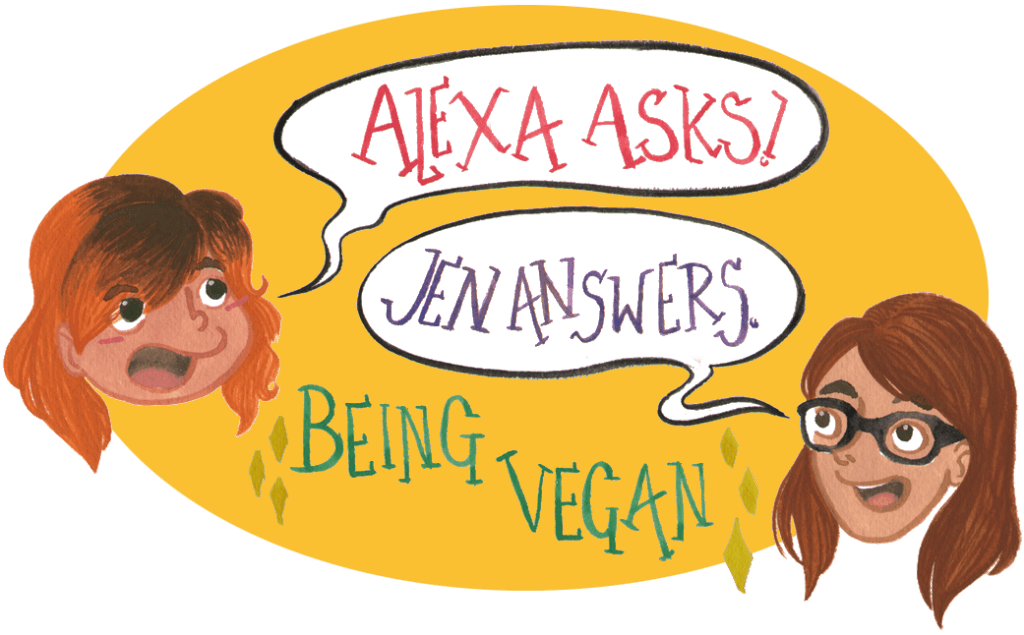 Alexa is working toward a vegetarian diet, and is loaded with questions. Jennifer's got answers. We talk about anything as long as it is vegan. Are tattoos vegan? How do I politely not eat Thanksgiving dinner? How do I order without pissing off the waitress? We know you are dying to ask!
Because I apparently live under a rock, I recently realized that apples are a great source of fiber – do you know of some good/reasonably priced sources of fiber?
Once I found this out, I was shocked- vegetables and fruit have lots of fiber! It is a little shocking since we keep reading about whole wheat or whatever whole grain is great source of fiber. Commercials keep suggesting grain products are truly the best way to get fiber. But really fruits and vegetables trump all. Once I put two and two together I wondered why we were told more about fiber in our greens over grains. Well, one reason is that you can't really put a brand on an apple. Sure there are groups that promote specific produce to represent many different farmers, but their marketing tactics tend to not be as obvious as bread or cereal commercials.
The other reason that the fiber in fruits and vegetables isn't common knowledge is probably generational. I know I get lots of poop and fiber jokes from my older bosses whenever I eat a big salad. But truthfully, a large salad filled with 5 cups of lettuce might only be around 10% of the fiber you need for the day. Point is that the idea of "ruffage" has disappeared in our food pyramids in class.
So what does fiber do for your body? I think this is an important thing to know since most people view it as a way to "keep full" and push your digestion tract clean. Well, first thing to point out that there are two types of fiber, soluble and insoluble fibers. Insoluble fibers are the gross ones. They help "facilitates regular defecation" and "adds bulk to the stool" (thank Wikipedia for that very sterile wording). It also helps regulate blood sugar, which can be great for diabetics.
Soluble fiber is a little different. This fiber is known for lowering LDL cholesterol, the bad cholesterol. Which means it is good for the heart, remember those honey nut cheerio commercial guys! But they also form a viscous gel in the stomach which delays digestion, which means delayed digestion of carbohydrates, which means even blood sugar levels.
So which foods have which fibers? Well most insoluble fibers come from grains, nuts, beans, seeds, potato & fruit skins, avocados, green beans, zucchini, and cauliflower, just to name a few. Soluble fibers can come many of the same foods, nuts, seeds, beans, oats, rye, barley, various fruits and their skins, root vegetables, and psyllium husks (they have both fibers by the way). If you haven't noticed I listed all vegan foods, and I wasn't excluding any animal based products.
Both types of fiber can help serve as "prebiotics." They are basically foods for the bacteria that live in your gut. By feeding them plenty of fiber they continue to grow and thrive. Of coarse this is a little trickier since probiotics are a little more of new discovery. Not all high fiber foods are equal in prebiotic world. Bananas, onions, garlic, asparagus, wheat bran, leek, dandelion greens, jerusalem artichoke, and chicory root are great prebiotic sources.
So do you need to worry about fiber on a vegan diet? Most likely not. In fact many vegans, especially weight lifting vegans, worry about too much fiber. Some have diet where they have days that are suppose to be low fiber, and it can be a struggle to find vegans foods that fit the bill. Even something that comes off as being full of fat like an avocado is full of fiber. A cup of avocado has 40% of the fiber you need in a day!
So should you be concerned about having too much fiber? Maybe. Some people have medical conditions that limit the amount of fiber they can have. But if you don't have them you will find out if you have too much fiber in your diet by paying attention to your digestion. If you have lots of gas pains and bloating, you might need to focus on incorporating less fiber into your diet. You may want to add more nut butters, protein powders, tofu, white wheat, milks, and juices.
But keep in mind, too much fiber is pretty rare on the Standard American Diet, and most people need MORE fiber. When working at a juice bar I use to get asked by mother's all the time how their sons get more fiber. I couldn't say it, but I should of just said a salad. But I would give them a shake with some psyllium husks in it, which probably got all thick and nasty by the time the son would be able to drink it.