November 13, 2014
I have been so bored with food recently…and that's saying a lot! I have wanted to try out new recipes but my budget has been tight and I have had so much going on that I haven't had the time to do anything, or at least it's felt that way. Yesterday I buckled down and decided that no matter what – I was going to make at least ONE new thing to eat! I have gotten my body in the habit of trying to eat (or at least ingest) something green once a day and when I don't get to do that it makes me grumpy. While there wasn't too much green in the foods I ate yesterday I at least know that what I made was vegan/vegetarian recipes AND they were on the healthier side!
I found this recipe on Pinterest (originally from The Simple Veganista) and tweaked it a bit. I had been eyeing the recipe for a while and decided that yesterday was finally the day to try it out! I always tend to think of even the simplest recipes as time consuming, mostly because of all the chopping they would involve (I tend to add more vegetables or more of a vegetable even if it isn't called for), and let me tell you…this is SO SIMPLE. There are only 3 ingredients that need chopping – if that even, and the curry sauce is really easy to make as well.
The only ingredients that were listed in Julie's recipe were chickpeas, carrots, scallions, raisins and cashews. I obviously included the chickpeas and carrots, but replaced the scallions for the sweet onion that I already had in the kitchen and replaced the raisins with dried cranberries (or "craisins" if you will). I am not a huge fan of raisins and knew that these would give the right sweetness that Julie used the raisins for in her recipe. I also stuck with cashews because they are delicious. I also added some chopped up radish for an extra crunch and added flavor. Radishes are vegetables that I love but I never seem to use them in recipes that I end up making at home.
When I threw all of the ingredients for the curry sauce (curry powder, garlic powder, a pinch of salt, lemon juice and hummus) together it all seemed a bit too curry-ish, which I find is hard to accomplish most times. It may have been the hummus I used, I usually like Sabra as my go-to hummus, but this time I had just used the leftover Trader Joe's (surprise surprise) hummus I had in the refrigerator. The texture was a bit off and it seemed quite salty, so I read Julia's notes and she mentioned adding maple syrup or any liquid sweetener to take that edge off. After I added a smidge of my Trader Joe's Maple Agave Syrup is was PERFECT. I put the salad on bread, made it into a sandwich and brought it to work. It's a wee-bit messy because chickpeas are big and round**, but if that's the only thing I had to complain about then I would say it all worked out pretty well.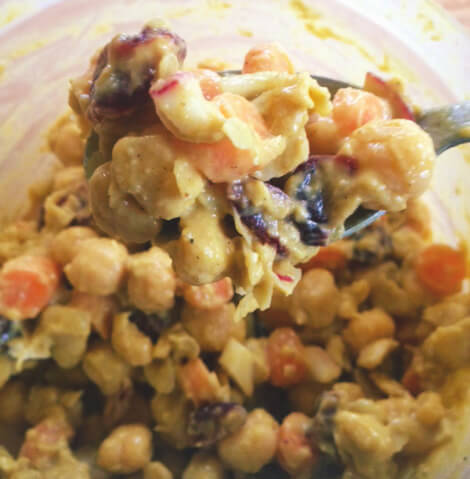 I will definitely be making this dish again and I am so excited to be keeping up with The Simple Veganista! I always love discovering new blogs and it's equally as lovely to find out that the recipes they post are delicious. I recommend this for easy lunches, and the recipe makes a decent amount so you'll have it for a few people or a few days!
** QUICK NOTE FROM JEN: I've made some chickpea salads in my day. I recommend mashing them quickly before stirring in all the veggies and such. Just get a few crushes to help them stay together in a sandwich.