November 11, 2016
Hello friends! This is Alexa here, and I'm so excited for Vegan Mofo this year. It's one of my favorite things to look forward too because of all the different recipes I see being posted. My prompt for today, day 11, is "Favourite Cuisine – Where does your favourite food come from?".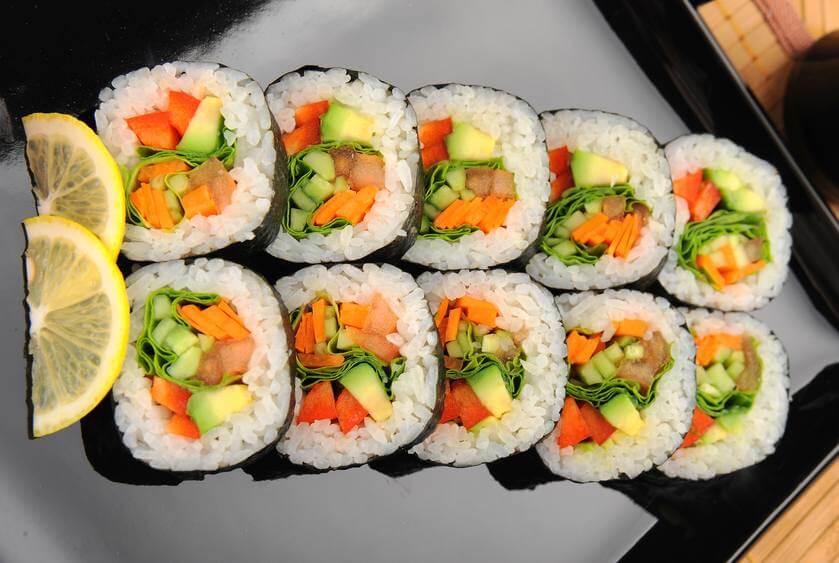 One of my favorite foods of ALL TIME would have to be sushi. I love all of the diverse flavors you can get from such a small and seemingly simple food. I also love burritos and enjoy the idea that sushi is just a tiny burrito itself.
Sushi comes from Japan, and while it is probably the most main stream and my favorite Japanese cuisine, there are certainly other Japanese foods that I really enjoy. A lot of the main dishes of Japanese cooking include fish but what I enjoy about it is that it can very very easily made vegan instead. I've also loved Japanese culture and history since I was young, so this may have some influence as to why I enjoy the food from that country so much.
I personally haven't had too many crazy vegan sushi recipes because the sushi places near me have the basics when it comes to that sort of diet (cucumber, cucumber avocado, sweet potato and sometimes something with mango will make an appearance) so I'd like to make a wish list or "bucket list" of vegan sushi rolls to try someday.
1) While writing this post and gathering all of my thoughts I was talking to Jen and she mentioned that she makes a really great spicy tempeh roll. YUM CITY USA am I right? I'm a lover of spicy food and I tend to lean toward getting spicy rolls when I order sushi, and I wish there was an easier way for me to get access to a roll like that. I'm still learning when it comes to cooking tempeh, and it is one of my favorite meat substitutes, so I'm sure this homemade roll would be absolutely delicious.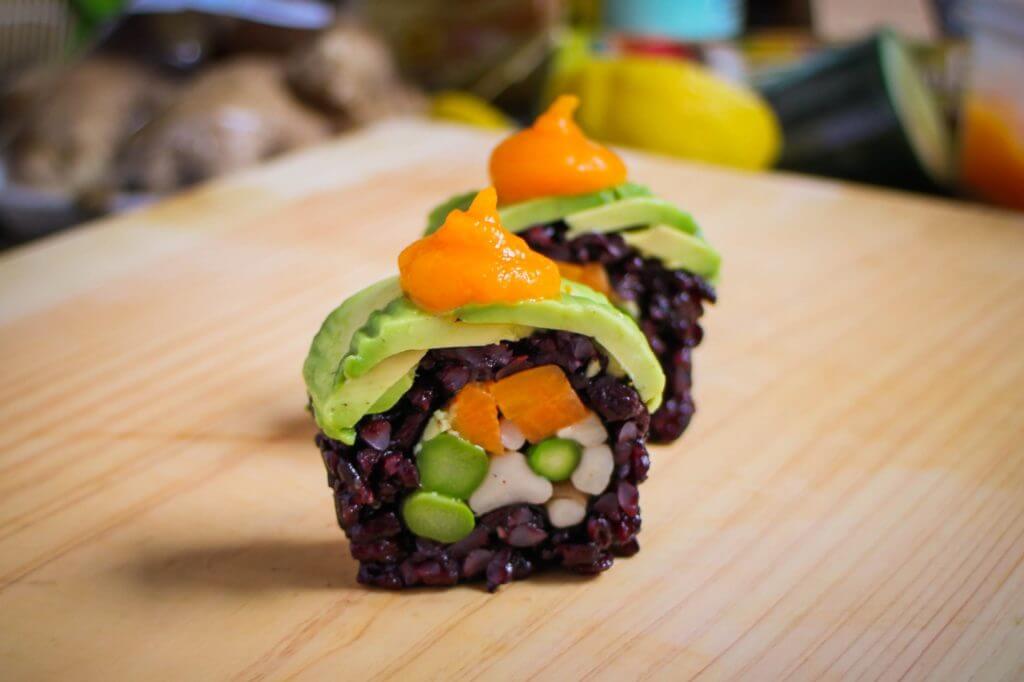 2) The "Spicy Mang" roll from Beyond Sushi. Jen has been to the Union Square location in Manhattan with her father-in-law (see post here), and while looking at their menu I noticed that they now have several different locations. I wish I had known this the last time I was in the city, I absolutely would have gone and probably wanted to try everything, but this roll stood out in particular because it hits all of my food buttons. It has black rice, avocado, mango, and english cucumber topped with spicy veggies with a toasted cayenne sauce. That sounds like it would be one of my favorite things ever, and now I'm really hoping to try it soon.
3) I found another vegan sushi & Japanese cuisine restaurant while looking up recipes online, and now I know where I want to go the next time I am in Los Angeles. This place is called Shojin, and their entire menu is vegan! Two rolls actually popped out at me first, so I'll just add them both as number three… one being their seasonal "Black Volcano" roll. This roll is made with Spicy tofu, avocado, brussels sprouts, shiitake mushrooms and green chile mixed with ginger, the sauce that comes with it is a spicy red beet and black sesame sauce. The other roll that made my mouth begin to salivate is called the "Crunchy Dynamite Roll" and it has mashed avocado, cauliflower, carrots and asparagus with soy-free mayo. I love the use of cauliflower in this, I feel like sometimes it can be an overlooked vegetable with a lot of potential.
I feel like my mind was just blown and this is why I love the amazing variations in sushi. There are so many different vegetables that combine to make delicious flavors and I feel like the options are almost limitless. Thank you Japan!
Jen's note: To add to Alexa's list- I thought it might be fun to share a few recipes. Including the spicy tempeh roll she mentioned up above. I hope everyone takes a dive into sushi making, which can be hard. But once you get the hang of it you'll wonder why you had so much trouble from the start.

Books: Vegetarian Sushi Secrets & The Vegetable Sushi Cookbook

Fish Roe: Gingeraid Kombucha Caviar, Faux Roe Stacks, Faux Roe Gunkanmaki

Nigiri: Shiitake Nigiri, Seitan Negimaki,

Rolls: Spicy Vegan Scallop Roll, Elephant Roll, Dynamite Roll, Spicy Enoki Mushroom Rolls, Yamroom Rolls, Goin' Back to Cali Rolls, Spicy Carrot Lox and Avocado Roll, Vegan Cream Cheese and Veggie Roll, Spicy Tempeh Roll, Eggplant Dragon Roll, Spicy Shiitake Roll