August 13, 2015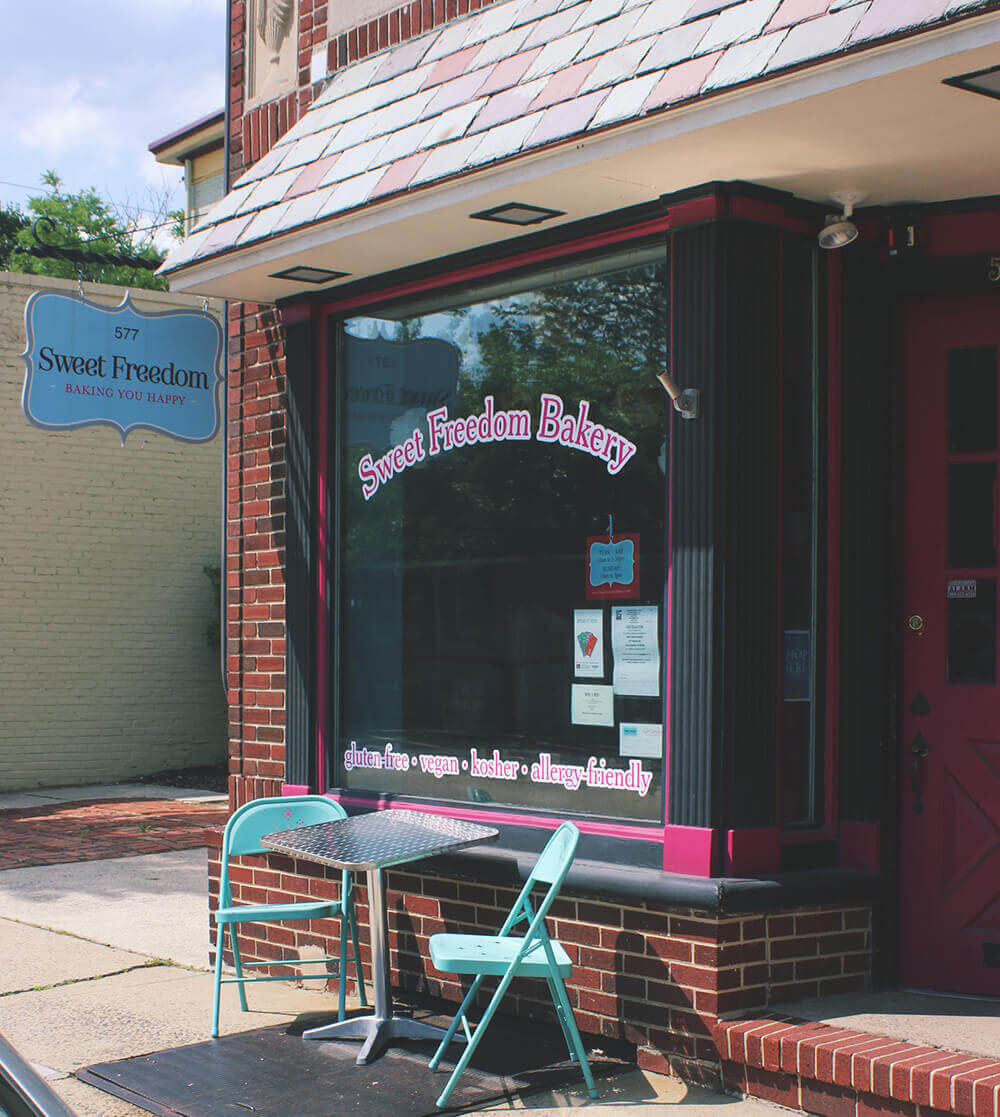 Sweet Freedom
1424 South Street Philadelphia, PA 19146
1039 W. Lancaster Ave Bryn Mawr, PA 19010
website | facebook | instagram | pinterest | twitter
UPDATE: When the post was written there were three locations for Sweet Freedom. Since then they have closed down their Collingwood location. The photos and review talk heavily about this location, but most items are available depending on the day and season at their Philadelphia and Bryn Mawr locations.
I first came to Sweet Freedom because I friend told me about a vegan bakery in Philadelphia. I went in and got a root beer float cupcake and a oatmeal cookie sandwich. My husband and I scarfed down our snacks and as we left I saw a big "yes, all food is gluten-free." I had no clue at the time! I shouldn't of been so surprised that the food was going to be so delicious. I knew before hand that they were on the show Cupcake Wars (season 2 episode 8). In fact Sweet Freedom is the most dietary friendly bakery I've ever seem. It is soy-free, corn-free, dairy-free, egg-free, vegan, refined sugar-free, peanut-free, and gluten-free.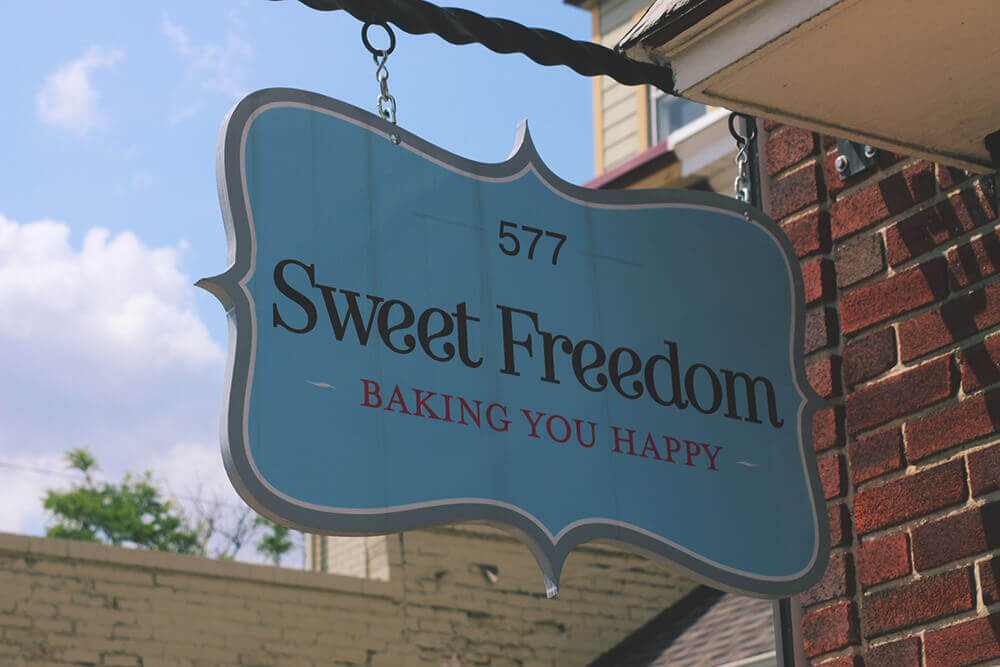 I think I would be lying if all the desserts were totally undetectable of being so allergy friendly. Some foods work better than others, and some are kind-of awesome as their own product. For example their "cake balls" are my favorite. They go by many different names, cake truffles, cake pops, whatever you want. From the non-vegan cake pops I've eaten in the past, they weren't that great, in fact they tasted like undercooked cake in my opinion. But Sweet Freedom's cake balls aren't too sweet, and much drier (in a good way). I can safely say that I prefer their cake balls over traditional ones.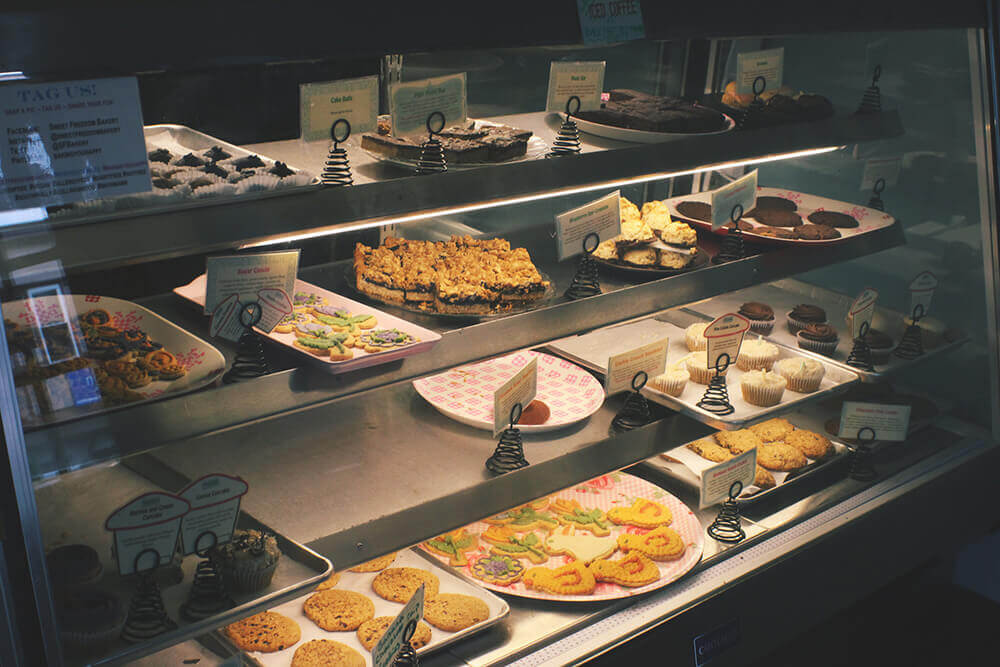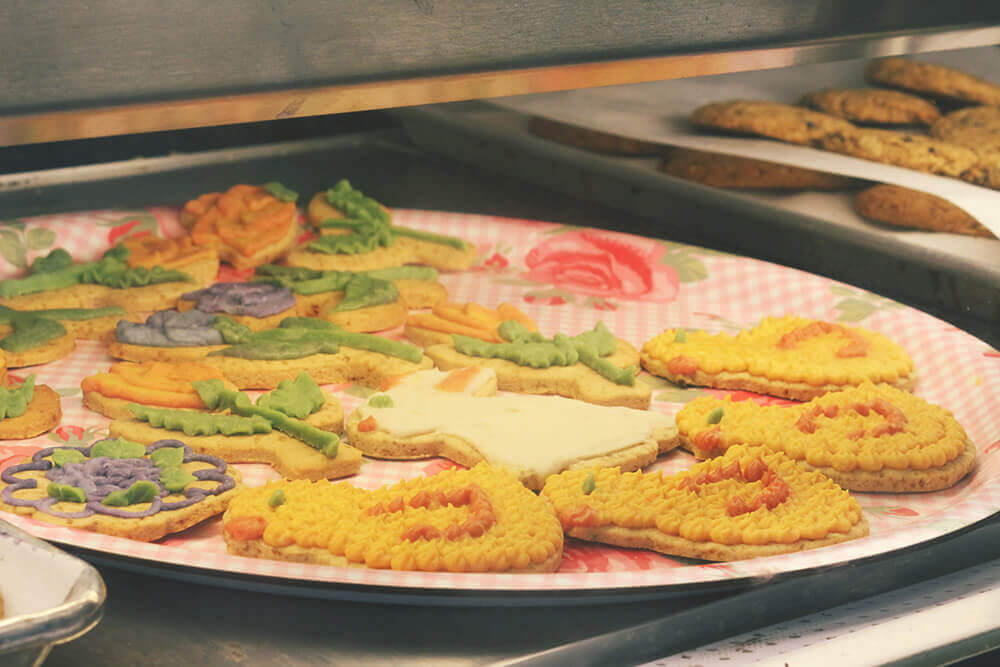 Their biggest selling point is their cupcakes but they dapple in lots of other desserts. They have cobbler bars, cookies, cookie sandwiches, bars, sweet breads, donuts, and even eclairs. All of these desserts can be found at all three of their locations. They started out in Philadelphia, and then expanded into Collingswood New Jersey. At the new location they decided to give juices, smoothies, and ice cream a try. Then they opened another location in Bryn Mawr Pennsylvania where they seem to carry the same things as the Collingswood location.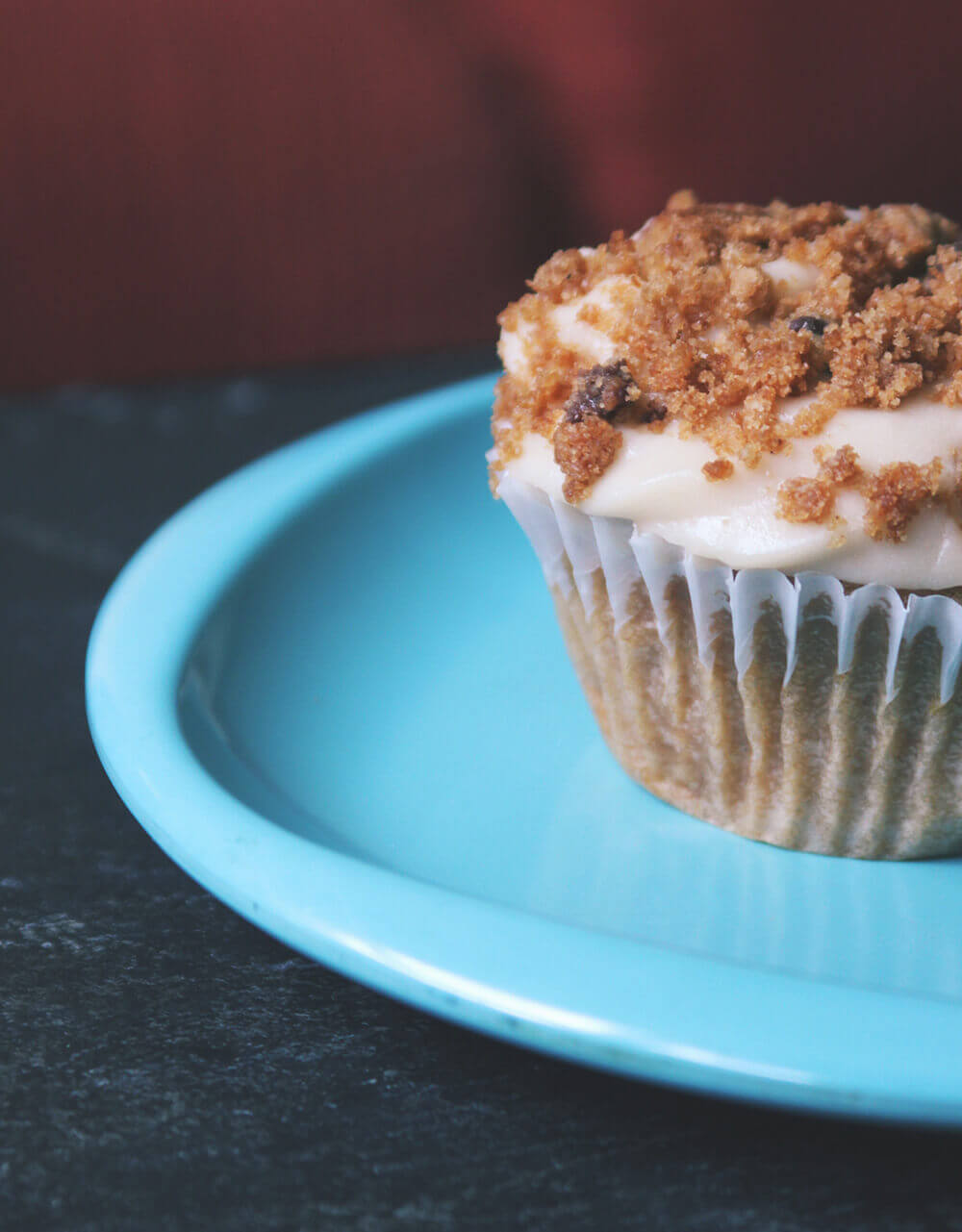 So what do I recommend getting? Well, if you want to get a cupcake, I suggest their root beer float. But any of their cupcakes are pretty awesome, though I much prefer their chocolate frosting over their vanilla. I love their facon-bacon topped donuts, and their magic bars. Any of their cake balls are awesome as well.
I would say to skip their juice or smoothie if you go to their Collingswood or Bryn Mawr locations. They have always been hit or miss for me. It isn't something they make frequently so I found that not all people working there make it with the same consistency. But I do recommend picking up one of their lattes or hot chocolates. They are very rich. I personally ask for half creamer, half coconut milk to make it not too rich.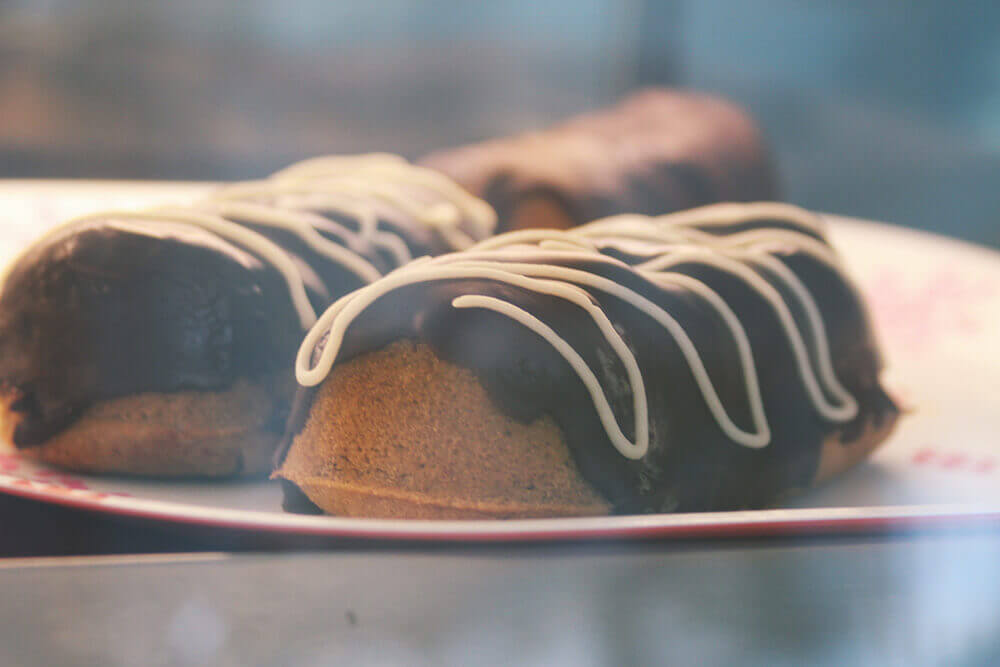 And let's talk about their ice cream! I love this stuff. They don't serve it as plain ice cream you would scoop into a bowl. They instead make them into ice cream sandwiches and ice cream pops. They are both amazing. They ice cream is fairly light, making a great reward for a hot day. You can focus on the ice cream flavors with the pops, like with their fruit flavors such as peach or strawberry. But their ice cream sandwiches are pretty much to die for. I am unsure how many of their locations offer the ice cream, but I know their Collingswood location does.
Their newest addition to the stores are gluten-free and yeast-free breads. I am not too wild about them, but some loafs would make a great bread option for sandwiches. They also carry some breads that are hard to find vegan versions of like Challah bread. And if you aren't into the sweets, they usually make a tomato pie once a day that is pretty tasty as well.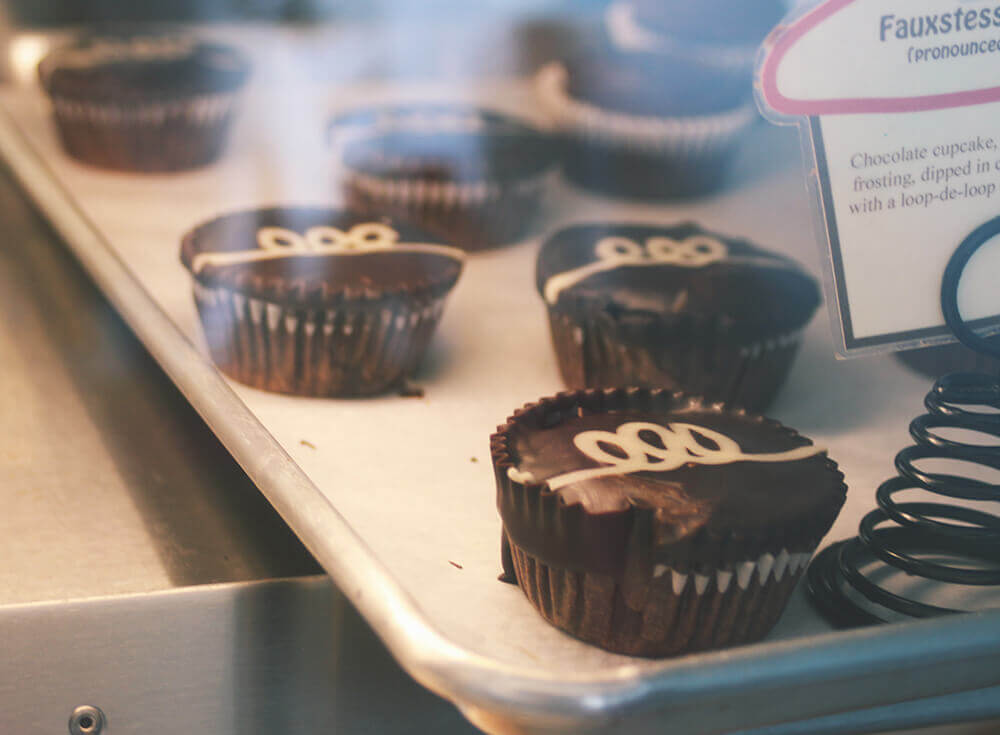 Which location is the best? Well, the Collingswood duh! It has ice cream! Okay, so each place has their own strong points. The Collingswood location is a little nice since it is slower and you can get a little bit more privacy. As mentioned, they have coffee, smoothies, juices, and ice cream. They will also appear at the Collingswood Farmer's Market. I have sadly not been to the Bryn Mawr location, but from what I understand carried many of the same foods as the Collingswood location.
The Philadelphia location, from what I understand, mostly just does the baked goods. They may offer coffee, and the last time I checked doesn't do the juice, smoothies, or ice cream. This location is pretty busy and you will probably see a bunch of people coming in and out. There is more seating as this location compared to their Collingswood location.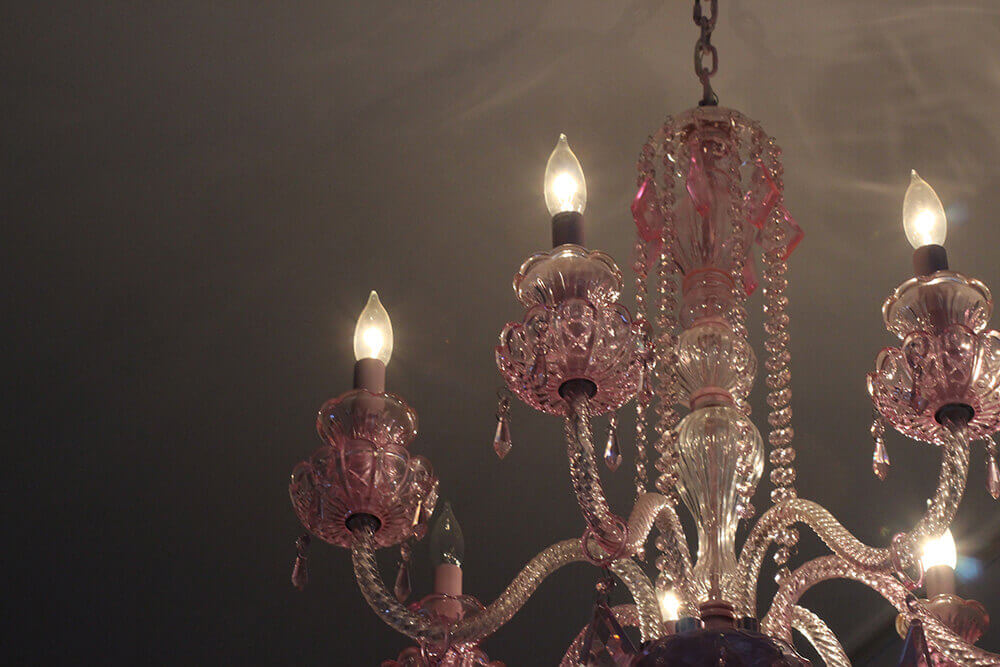 Overall I can say this is one of my favorite bakeries. I am aware if I bake a cake at home, it probably will be like more universally accepted as "cake like." But I am not restricting the type of sugar I use or not excluding gluten. But I think their baked goods are sweet but have something light and addictive about them.
I think overall what I like about their baked goods is that I always feel great afterwards. I never feel "super horrible" after eating a chocolate cake, but I do feel a little sluggish. With Sweet Freedom's sweets, I barely feel like I ate anything in the same way I feel after eating a piece of fruit. I love buying their agave sodas and a cookie sandwich and sneaking them into the movie theater. Much better than popcorn!
Who would I recommend checking this place out? Health food nuts who want great sweets and people who don't like things too sweet will love this place! The owner does a great job taking complex flavors from the various flours and making them work with the featured flavor of the dessert. I may love this place, but I know that it isn't for sugar junkies. If you dream cupcake is light fluffy and half frosting then turn around and bake something at home.