May 27, 2015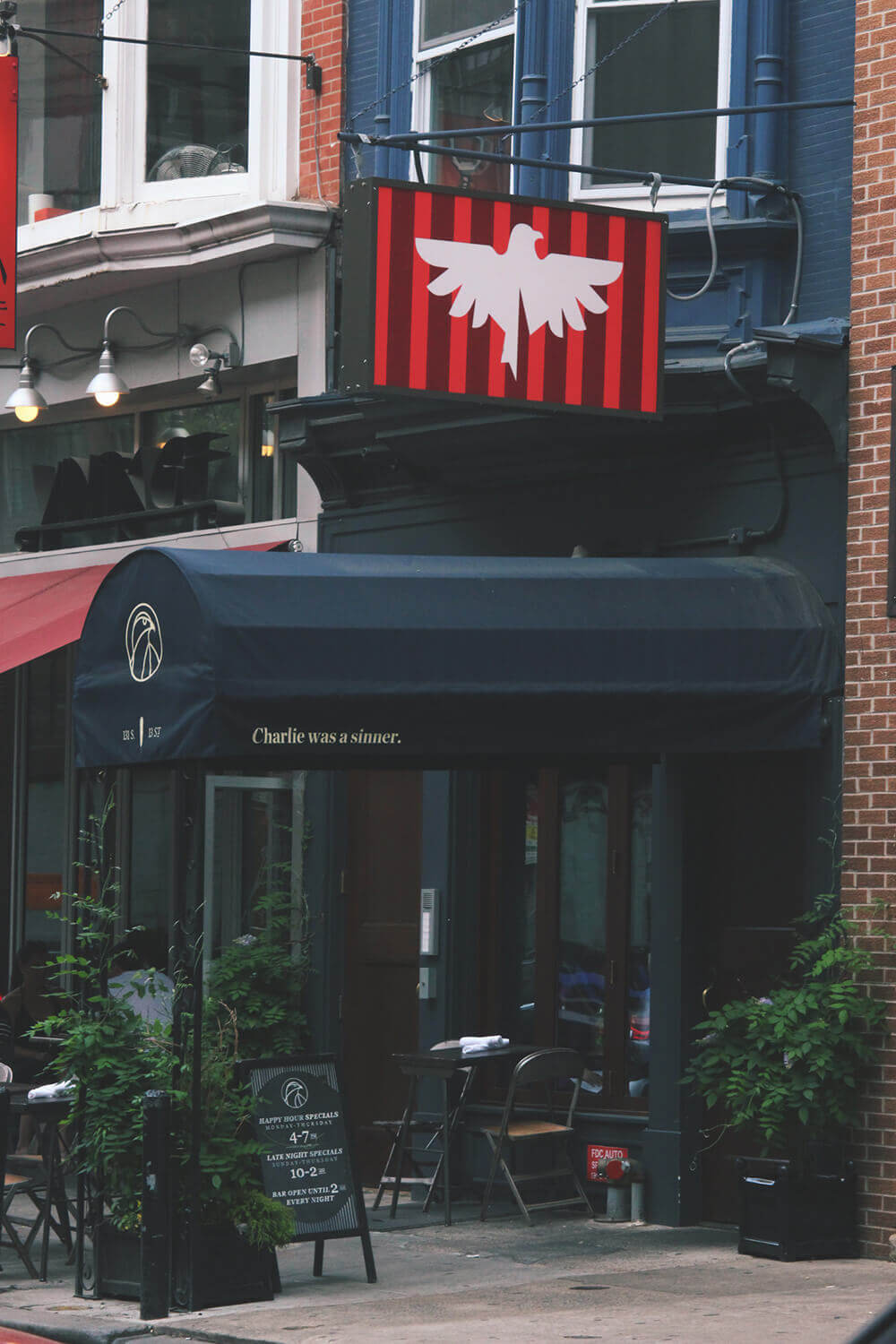 Charlie was a Sinner
131 South 13th Street, Philadelphia, PA 19107
Located between Walnut Street and Samson
website | facebook | instagram | twitter
I am a very big fan of Chalie was a Sinner, but I am aware it isn't a place that I go to often. It is fairly high end, and your bill can build up pretty fast. My recent trip added up to $90 for two people (not including tip). But on the flip side, if you are just going to drinks with friends, you can enjoy fine cocktails and drinks without it getting too crazy financially. It is also a great bar to go to with a friend who doesn't drink alcohol, as there are virgin cocktails that put a Shirley Temple to shame.
Charlie was a Sinner is a seasonal tapas bar. So whatever I put into this review may not be on the menu when you go. I've been twice, and some drinks have changed, and all their desserts have changed (previously was flan, hot cocoa, and some baked fruit with ice cream if you are wondering). Having seasonal dishes assures that you will get the best tasting food.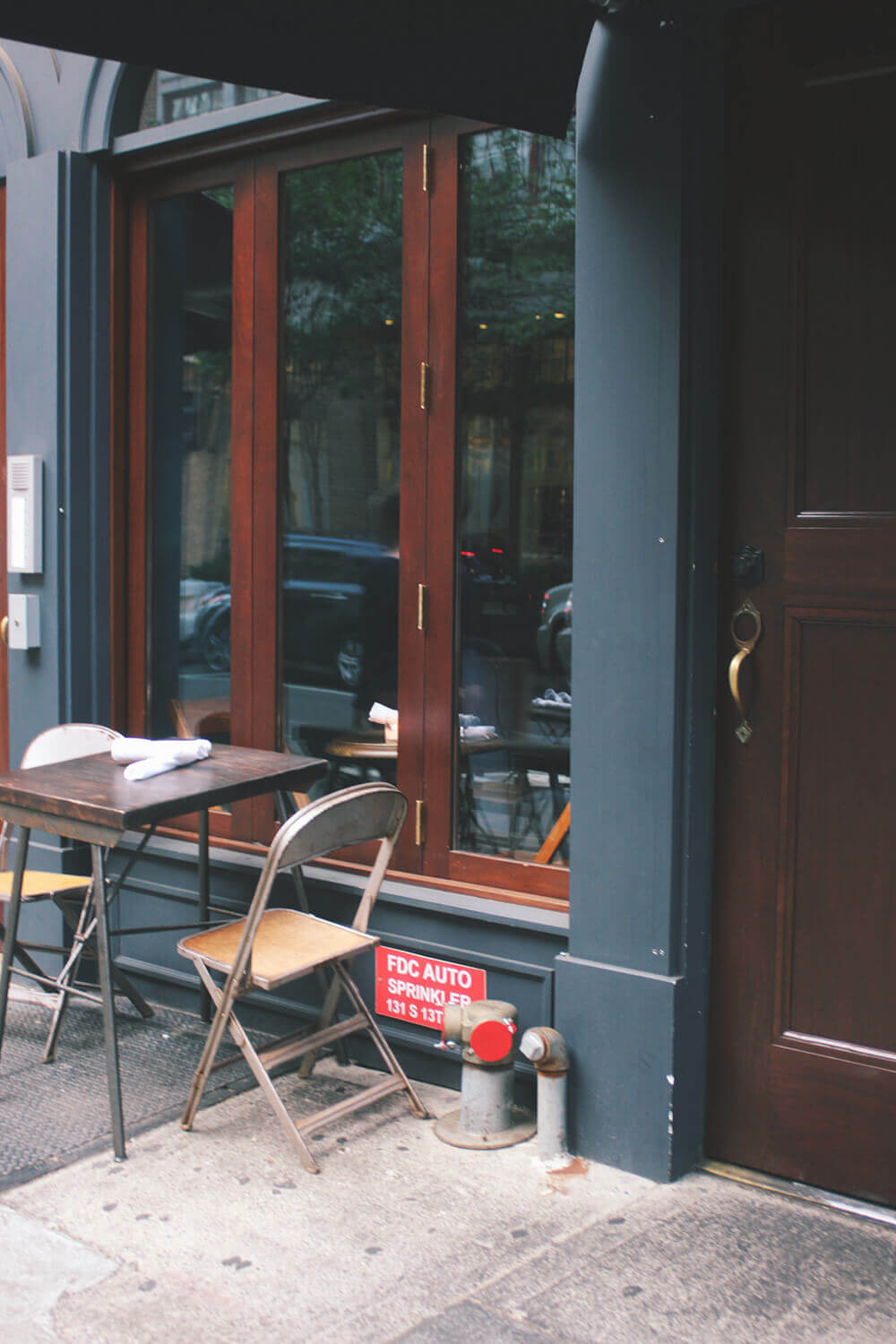 The setting really sells the place. The lighting is really low, so that made photography a little hard (hence why there is only photos of drinks and the outside). The room is colored with royal blues and turquoise, and the place is decked in fine wood and upholstered seating. There is seating in the front for more casual drinks, while there is some seating in the back for dining. In the back there are hanging chandeliers and an abstract video projection.
Waiting staff has always been helpful, and generous. The first time I went we were accidentally given the wrong dessert, and started to eat it. They apologized and gave it to us free of charge, along with the correct dessert. When we went the second time, we got lots of feedback about how much to order, which dishes were delicious, and the waiter was very knowledgeable about the liquors.
I don't go out for drinks often, so I can easily justify the higher prices. And their cocktails are truly exceptional, once you try one, you will get quite fussy about cocktail quality. Even better is that they rotate their drinks for the seasons, so every time I go there's always something new to try. Of course, it can be hard to pick since there are many mixers that I tend not to know before hand. Try not to let that scare you, and feel free to ask the servers. They will probably know.
That being said, the list below are the drinks and food that we had while there recently. As mentioned I've been twice but the first time I was there I wasn't taking notes about the cocktails I drank or the desserts we ate. Nor were the desserts still available the second time I went. So the reviews below are to help people who will visit soon and give an idea about the quality and style of food and drinks that they offer.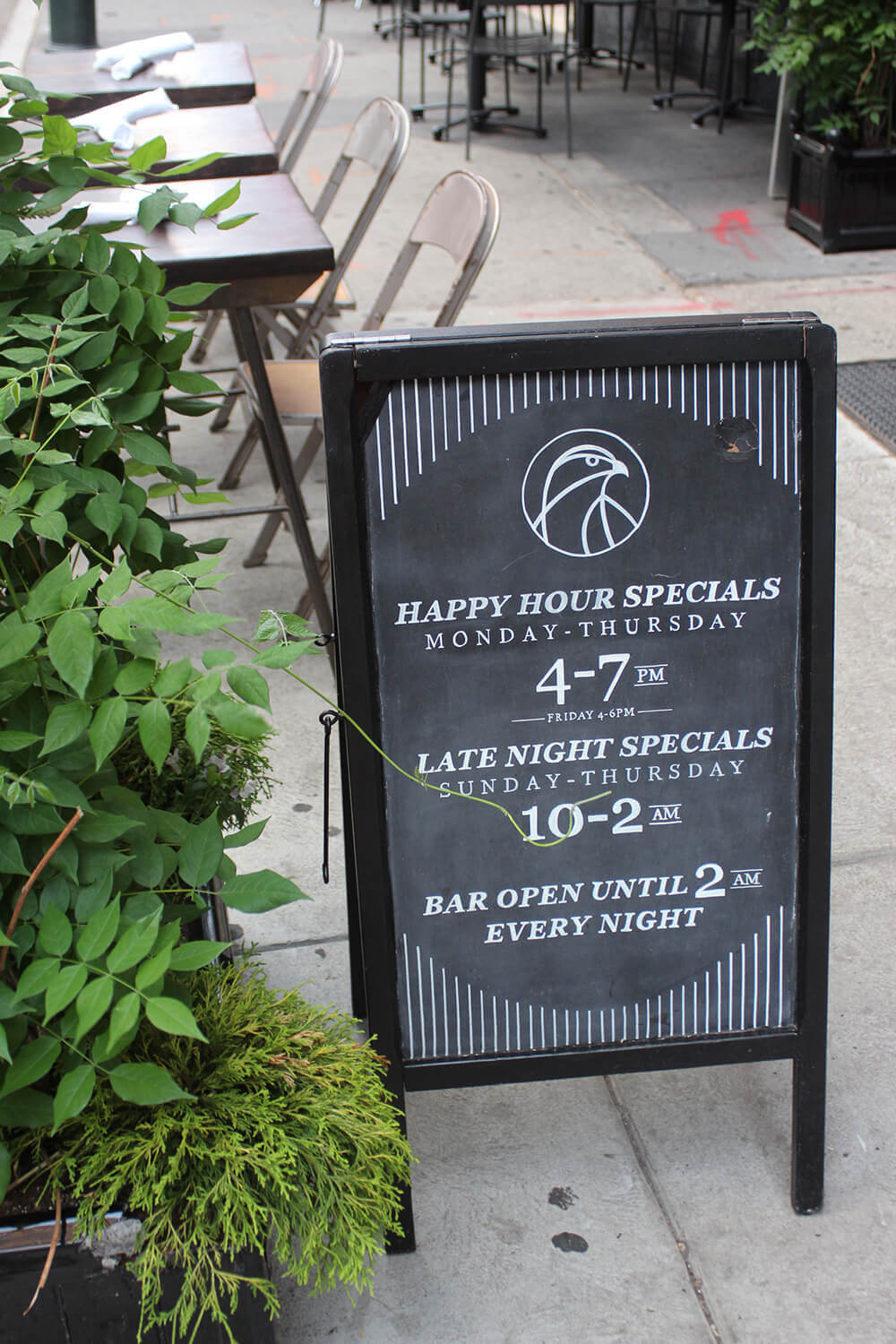 MARINATED BEET SALAD
cauliflower panna cotta, apple horseradish vinaigrette
Our server suggested starting with a salad, so we ended up getting the beet salad since it seemed like something we would never do at home. The salad was interesting since there was some greens tossed in a vinaigrette and topped with the cauliflower panna cotta. The beets came in a jar off on the side. The two worked beautifully together, though I would of liked a little more flavor from the panna cotta.
AVOCADO TOAST
habanero aioli, radish, tarragon, red onion
My husband wanted to try this dish badly. I was skeptical of paying so much for such a simple dish, but we ordered. Let me say it went beyond my expectations. The dish seems simple enough, toast, avocado, onion and aioli. The toast was more like bruschetta by being served on toasted baguette slices. The avocado was perfectly ripe as well, which probably makes or breaks the dish. The aioloi adds a kick of heat without giving a Mexican influenced vibe.
CRISPY TOFU ROLL
dashi aioli, shiitake, chili relish
The best way to describe this dish is to call it a tofu sushi roll without rice. Although the dish was incredibly tasty, I am not sure if it fits with the other dishes that we picked out. The other ones are very western while this tofu roll had lots eastern flavors with the chili relish and dashi aioli.
GRILLED ASPARAGUS
garlic truffle aioli, parsley breadcrumb
Perfection is the best way to describe the asparagus. The size of the asparagus was a little thick, which usually results in a stringy dish. But they were cooked perfectly where they could be easily cut into but didn't have a bitter overcooked taste. The aioli adds a perfect little burst of flavor, while the breadcrumbs add a nice texture.
HEIRLOOM BEANS
hazelnut-tomato vinaigrette
The name can be decieving. I was expecting a bean that was like a butter bean or a fava bean. But they were more like green beans. At first I wasn't a big fan since the beans were very mature and a little woody, reminding me of green beans from my farm when a crop is on their last legs. But the hazelnut-tomato vinaigrette saved the dish. The tomato was in a thick paste, which gave a punch of flavor. Although I would preferred a more tender bean, I might try making a dish that's similar on my own.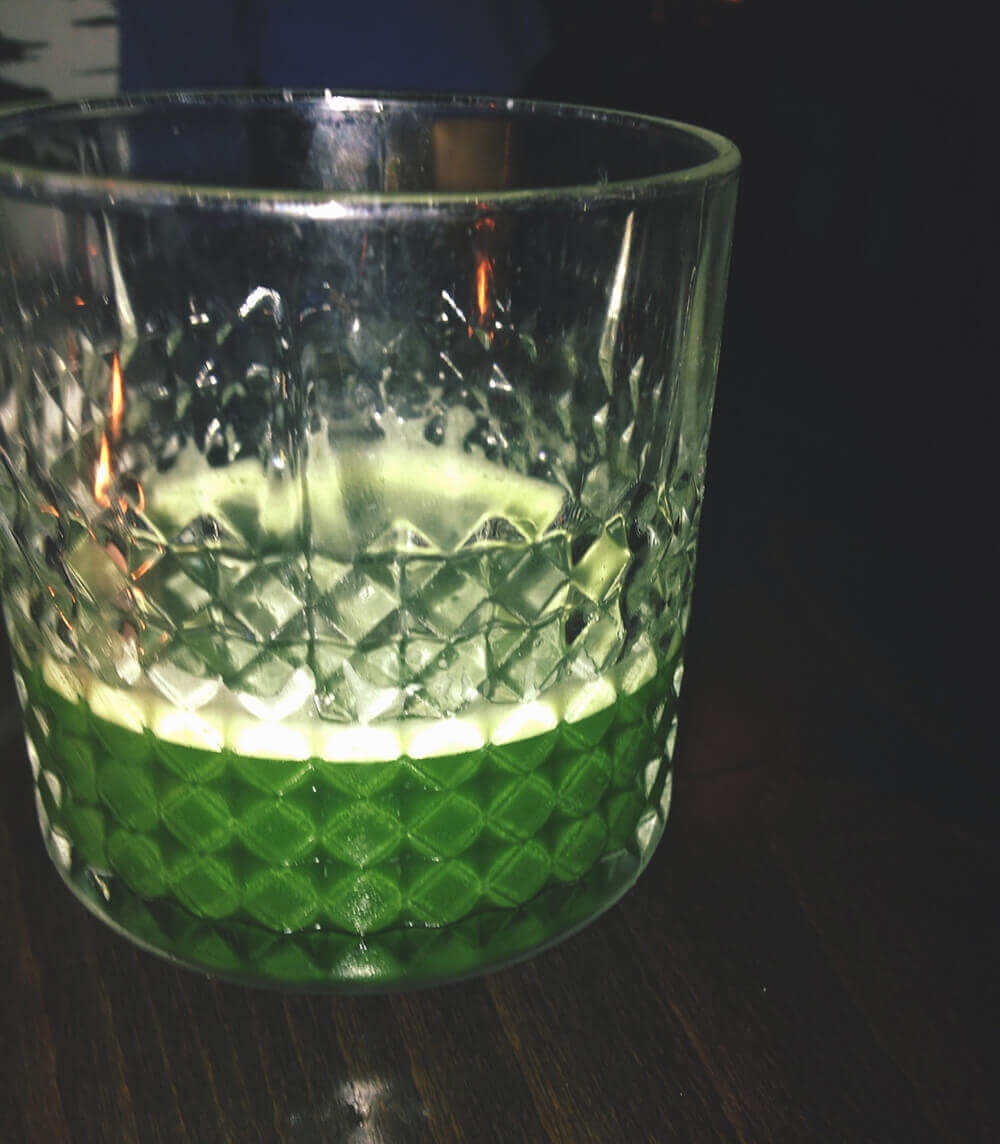 WHEATGRASS SHOT
green chartreuse, wheatgrass
When working at Animo I use to try and take wheatgrass shots regularly, but when I got out of the habit I found the smell revolting. So when I saw this drink on the menu I thought it must be amazing, right? Or why would something so gross be on the menu? I asked the server and he seemed to genuinely enjoy the taste. He also raved about the liquor in the drink, 130 different herbs infused for 8 hours by monks. The drink definitely tastes like wheatgrass, but much sweeter. It honestly tastes like the smell of freshly cut grass, flower and all. The chartreuse cuts through the weird earthy flavors in wheatgrass, making a well rounded drink.
ESCAPE VELOCITY
tobacco infused johnnie walker black, carpano antica, cherry heering, orange bitters
DUMMY'S GUIDE: tobacco infused scotch whiskey, sweet vermouth, cherry liquor, and orange bitters
This drink is a strong one. If you like to taste you whiskey in your whiskey sour, you'll enjoy this drink. It is served in an old fashion glass (the same in the photo above) with a large ice cube. The drink will get most of the sweetness from the carpano antica (sweet vermouth) and cherry heering (cherry liquor) which helps keep the drink strong.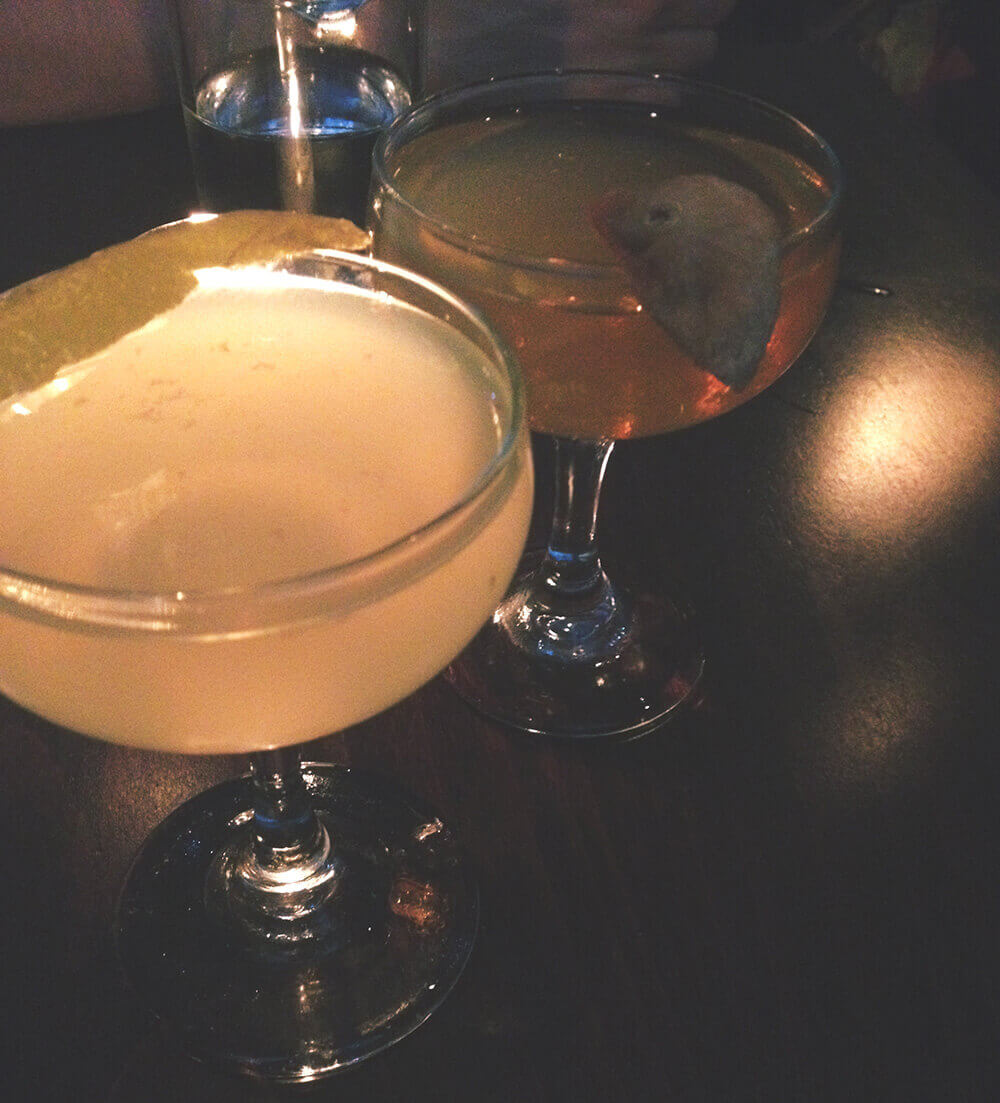 GOIN' DOWN EASY
lemongrass infused beefeater, yellow chartreuse, lemon
DUMMY'S GUIDE: gin, yellow chartreuse (no seriously don't know what to compare this to), and lemon
If I had to describe this to someone who only gets common cocktails, I would say this is a tom collins served like a whiskey sour. Okay so it isn't served in an old fashioned like a whiskey sour. But it is strong and a little sour like a whiskey sour. There isn't any added sugar like a tom collins would be, but instead the sweetness comes from the yellow chartreuse. The lemongrass blends perfectly with gin, making a drink the feels light, but packs a lot of booze.
EAST OF EDEN
bulleit, tea infused dolin blanc, lillet, fig
DUMMY'S GUIDE: bourbon, vermouth, aperitif wine, and fig
Pretty much this is a variation of a Manhattan. The difference is that there isn't any bitters, and has a hint of fig flavor. I would probably say this was the most boring of all the cocktails that we had. Not to mention the fig doesn't photograph well (it kind-of looks pathetic on that glass).
Some of the drinks listed seem to vary in descriptions on older blogs. I can only assume that the cocktails change as liquors are available. I like how they are willing to give rarer, small batch liquors a try and therefore your drink might not be exactly the same as a few months ago. I love the wide range of drinks and aperitifs to choose from (simply put a liquor or wine that is drank before or after a dinner).