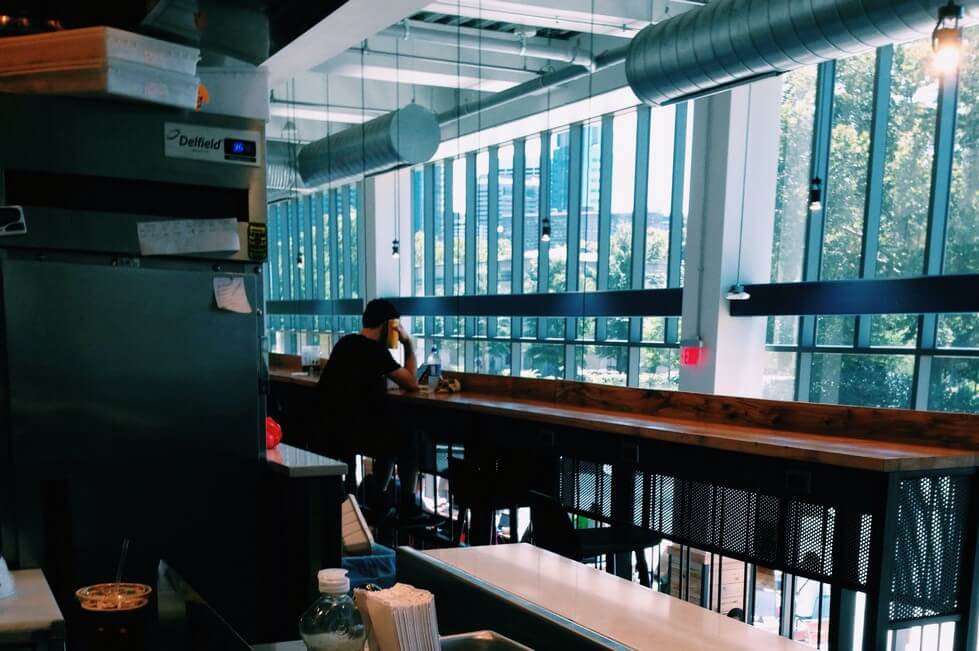 Whole Foods Restaurant Row
2101 Pennsylvania Avenue Philadelphia, PA 19130
website | facebook | instagram
CHeU Noodle Bar
255 South 10th Street, Philadelphia, PA 19107
website | facebook | instagram | twitter
Oh my. This is definitely a late post. It is probably- a year old? Maybe less. This was either Valentines Day, or for our anniversary (in May) Regardless, this post is so overdue that the food we got isn't even available here anymore. So this post is a little all over. So lets start with what happened.
So Jon and I took a romantic trip in Philadelphia to visit the art museum and grab some grub. We originally wanted to get a cheesesteak from Whiz Kid. At the time they were JUST opening their brick and mortar store front, but only had a location at Whole Foods. So my husband and I went, and was surprised. The Whole Foods had moved since I'd last been there, making me very confused and panicked. Jon was already a little annoyed we were going to Whole Foods for lunch instead of someplace only found in Philly, so I felt extra pressure to not get us lost, and therefore extremely hungry from not eating. Luckily a local heard our confusion, and told us where to go (pretty much behind the Barnes Museum.) The new location is much nicer, providing more parking, a shopping cart elevator (THE BEST PART), and what they call restaurant row.
So I thought it would be worth the time to talk about this new restaurant row. I loved the idea especially since finding a vegan restaurant near the parkway can be hard. If you are visiting Philadelphia to visit The Franklin Institute, The Academy of Natural Sciences of Drexel University, Philadelphia Museum of Art, The Rodin Museum, or The Barnes Foundation I strongly suggest stopping here. You can easily buy a snack of fresh fruit, ice cream, chips, snack bar, anything you could find at a normal Whole Foods, but they also have options of drinks and food made fresh.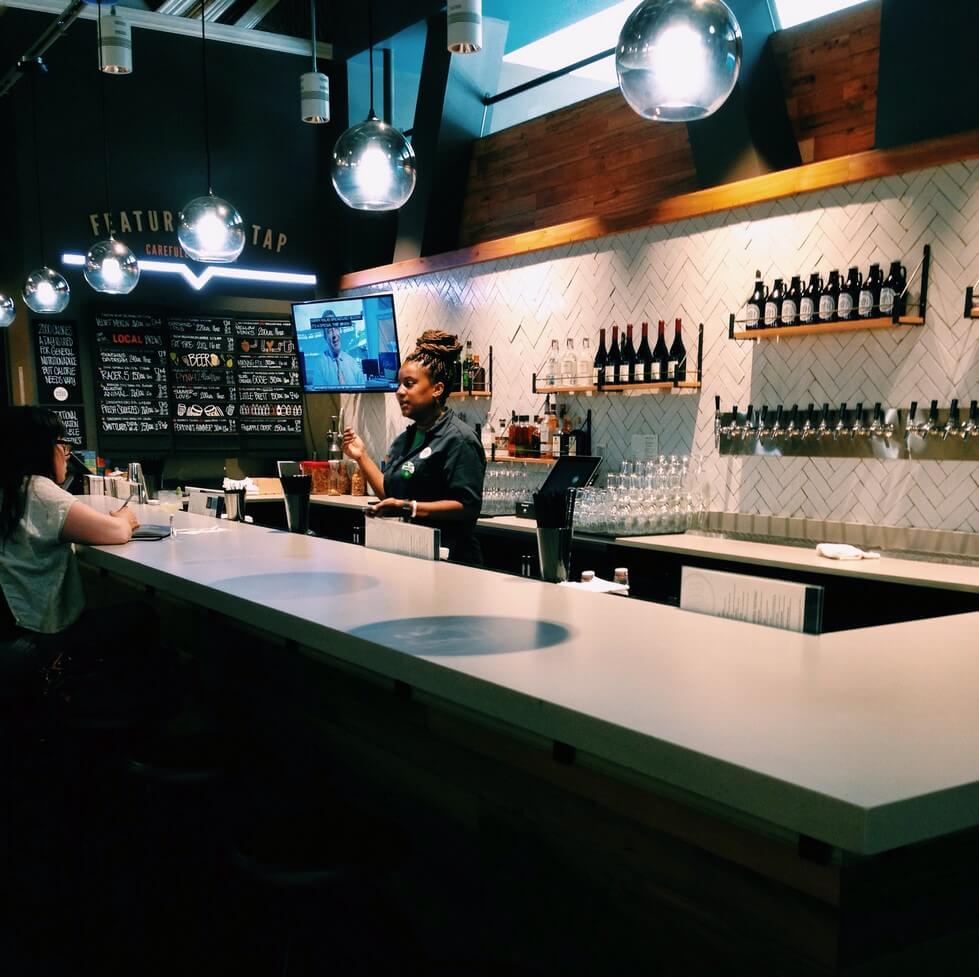 Let's start with the booze. This was my favorite part, though I wasn't really getting anything. I was still pretty sleep deprived at this point and having one beer for lunch probably wouldn't of been the greatest. But you can get REALLY cheap beer on tap here. I am pretty sure the cheapest beer was $4, and it looked like it was a local craft beer!
Beer not you thing? I'm pretty sure there was wine- I mean look at that photo- that looks like wine bottles behind that lady right? I am pretty oblivious to wine, soooo… sorry guys for being a crummy reporter. lol. There was also a "cocktail" bar. I am pretty sure you can get the cocktails at the beer/wine bar, but they had another booth just for seasonal cocktails, which was closed at the time.
Don't drink alcohol at all? Then you can check out the coffee bar that's found at almost all Whole Foods. Pretty much I treat my local Whole Foods as a coffee shop anymore since they do not charge extra for soy or almond milk. Plus they have some of the best almond milk ever. Just take note that the coffee is on the first floor by the street entrance. Everything else is on the second floor.
Then you have the restaurants. There are little booths all set up in a row near the front of the store, kind-of looking like the little booths you see at malls. At the time we went there was CHeU and Wiz Kid, but they are now gone. I am not sure if this is a decision by Whole Foods, or the owners of the restaurants to move on out.
CURRENT VEGAN OPTIONS ON RESTAURANT ROW:
Clearly the restaurants rotate to keep things fresh. As of posting this in February 2018, these are the current options at restaurant row. There is ALSO a coffee, beer, and cocktail bar that will have varying vegan options. I recommend double checking the current restaurant listing Whole Foods Website to see their most up-to-date listing of restaurants.
Dizengoff 11 am – 8 pm
This restaurant chain offers middle eastern food. Although some of their specialities are meat based, most everything is vegan. Expect hummus with rotating seasonal toppings. Read review of the original store location here.
Goldie 11 am – 8 pm
This restaurant serves 100% vegan options. You can expect hot falafels, fries, and tehina shakes.
CHeU:
When Jon and I went, we ate at CHeU. This was a place I wanted to check out for awhile now. I deeply miss eating a good bowl of ramen. I knew they had a vegan option out there, so when Wiz Kid was closed, I was more than happy to grab a bowl from here.
When you go to CHeU, you won't be getting a traditional bowl of ramen. The food is definitely fusion cuisine, the owners are very open about their lack of authenticity. And the beauty of CHeU is that their menu is small. This can be a blessing or a curse. If you are an adventurous eater, this is great. You get one option that is vegan, but it is solid and well thought out. If you are a picky eater, well, you have only one option.
Okay, well you get a little more than one option. The food is labeled as vegetarian, though it appears only one can not be made vegan. I also recommend DOUBLE CHECKING with servers. Philadelphia is a pretty vegan friendly area, so staff is probably use to the question. So here are your options as of February 2018:
Broccoli (small bites, ask for no pork)
Sweet and Sour Brussel Sprouts (small bites)
Coconut Curry Noodles (bowls)
Sichuan Spicy Fat Noodles (bowls)
Shrimp Yakisoba (bowls, sub tofu, no egg)
Chicken Karaga Rice Bowl (bowls, sub tofu, no egg)
Kimchi & Bok Choy (add ons for bowls)
When went, the menu was a little different. Yes, there was the Coconut Curry Noodles, but there was also Cold Sesame Noodles. These were really yummy, and Jon was happy with his decision. The noodles were really chewy, and dish was just the right amount of spicy.
I got the Coconut Curry Ramen, which seems to be a classic option that is still on the menu. It was just what I wanted it to be. I was afraid it would be too dense, like a thick curry sauce. The spice and flavor wasn't overwhelming, and the coconut added a creamy slippery texture to the broth. The noodles were chewy, and there were nice bursts of fresh flavor from the garnishes.
Naturally this trip wasn't for reviewing, so the photos are just with the iPhone. If you want something prettier, I suggest taking a look at Ted Ngheim's blog with his photos of the store location. I strongly recommend checking this place out. Clearly they are pretty aware of having vegan options available, and do a pretty darn good job considering how limited the menu is to begin with. I strongly recommend this place if visiting the city. It is in the heart of center city, and is perfect for a quick meal.