Cardinal Provisions
514 Bangs Ave Asbury Park, NJ 07712
website | facebook | instagram
I remember when I first started the blog, Alexa usually came to me because I had more vegan options in my area. Flash forward to today, now it seems like Alexa is sitting in the suburban vegan mecca. There are so many places I want to visit near her, but they are usually closed on the day I come to visit- Mondays. So Alexa suggested Cardinal Provisions, a brunch and lunch based restaurant. She had went before and thought I would dig it.
Alexa's note: Visiting Cardinal with Jen wasn't the first time I had been there. I had actually gone on Valentine's day with Mr. Ian, and on that day I had one of THE BEST waffles I have ever had. It's definitely on my list of Top 5…because apparently I have that sort of list now. I believe it was a special for that weekend, but hopefully it will pop up again. The waffle was covered in caramelized bananas and thin mint crumbs.

That's right…THIN MINT CRUMBS.

I loved the dish because 1) it was vegan and 2) it's not something that I have see anywhere else yet almost resembled something that I might make for myself (and think "Alexa, you are cray cray.") I was slightly hesitant about the mixture of banana and mint flavor, but it was fantastic. I had also had the nitro infused coffee with my food that morning and it made everything even more delicious.
She was right, I loved the place. If you have ever been into New York City for brunch and enjoyed it, you will love this place. The store is very small but has a lot of personality. I am not sure how common this style of restaurant is, but you are seated, and waited on, but you pay at the end at the cashier. There are some baked goods and juices that you can grab and take with you, making it a spot to actually get a breakfast "on the go". There are adorable vintage tiled floors, cute metal backed seats, and vintage salt and pepper shakers at all the tables. Yup, they pretty much nailed the setting.
So is the place vegan? Uh… no. But the menu is very vegan friendly. There are only about two dishes listed as vegan on their breakfast/lunch menu, and three from their brunch menu but they have little Vs next to items that can be made vegan. This is a dream come true for vegans who love breakfast foods. It even looks like about half of the kids menu is vegan as well (mostly nut butter or jam sandwich combos and some veggies) If you are looking to grab a quick breakfast, you can get their vegan croissants and some fresh juice up at the counter. Oh you heard me correctly. Vegan croissants at a non-vegan restaurant. Although this might not happen every day, when we went they actually have a daily special that was vegan. Let's face it, how often does that happen?
A word of caution. If you want to do the traditional brunch thing and do some day drinking, you might have to bring your own booze. Cardinal Provisions does not have a liquor license, so call ahead of time to see if it is okay if you bring your own champagne for mimosas. They also have nitro infused coffee and I fucked up and missed by chance to try freshly tapped nitro coffee. Also on the menu that would quench your cocktail thirst? Kombucha, bitters and soda, green, grapefruit, and orange juices.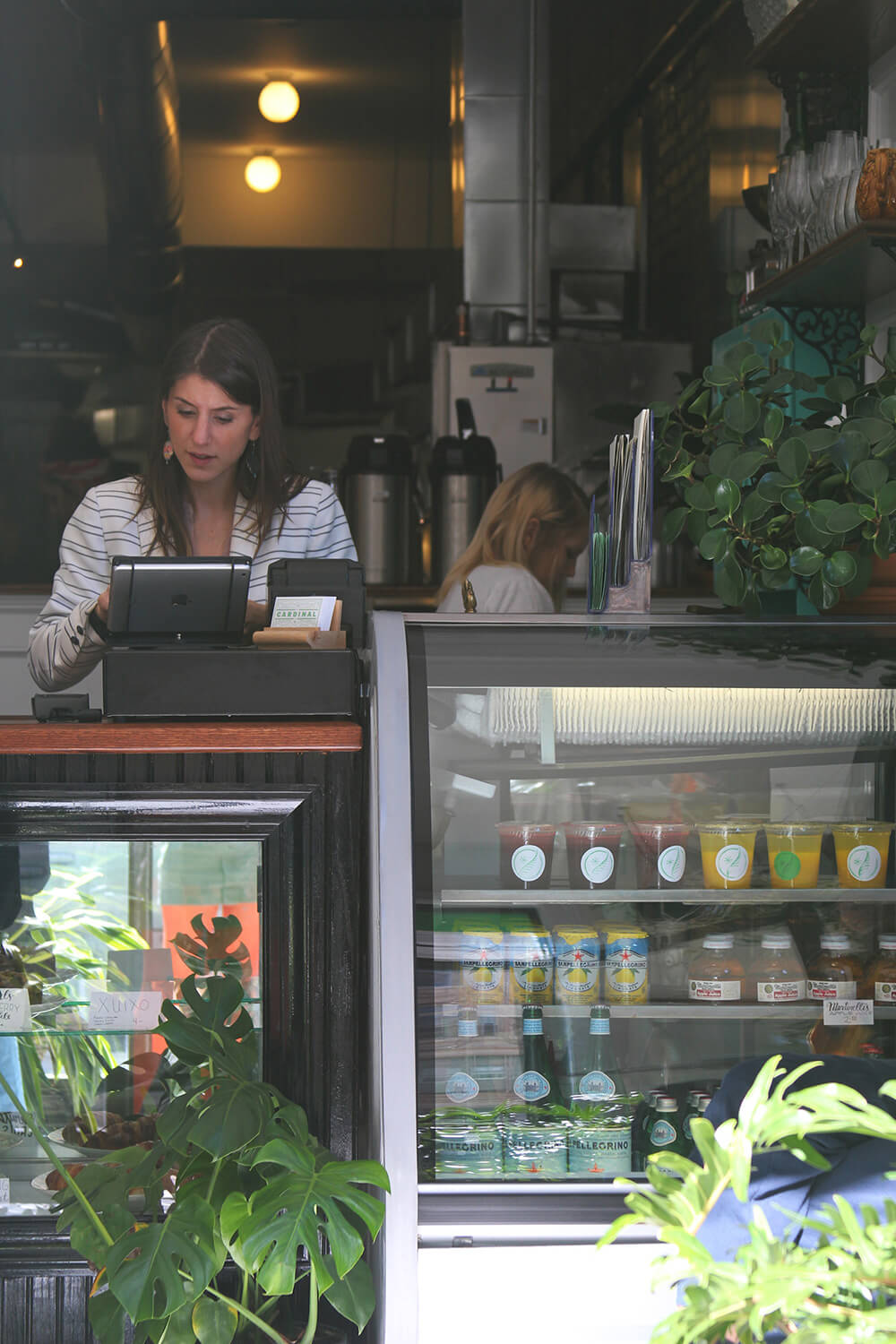 So what did we get? Well, the day we went they have a special- a vegan burger on a either a roll or vegan croissant. It originally came with fries, but we were both in the mood for a side salad. The burger was topped with a pickled carrot slice, cauliflower, and artichoke. Let me tell you, it has been a long time since I've had a croissant, and this was much better than the ones I had in the past. The croissant was super flakey and buttery. The burger was also the best vegan burger I've gotten in a non-vegan restaurant. The burger was very solid, and didn't smoosh out like most vegan burgers. The outside was charred beautifully giving a nice contrast to the flaky croissant.
Alexa's note: Since I love the place so much, I visited again without Jenny. The other dish that I've gotten here also involved waffles (I'm not sure if anyone else is picking up on a theme here or if it's just me?), but it was the vegan version of Chicken and Waffles. In place of chicken they subbed in a mushroom that they were calling "Hen of the Woods", which I believe is just a fried maitake mushroom. I loved the texture and taste of it, and as a vegetarian I can get pretty tired of mushroom consistency and flavor. It came with a jalapeño cashew remoulade layered on top and then syrup to go on top of all of that. Again, it was another dish where I could have been a mad scientist playing in my kitchen but it magically tasted fantastic once on the plate. This dish is (luckily) on the menu all of the time. I highly recommend it.

I also love the atmosphere like Jen pointed out. Not only is the decor really adorable, but the employees are super nice and are always willing to help you find a way to make whatever you want into a vegan friendly version of itself if it isn't already. I haven't had a bad meal there yet and I don't expect I ever will.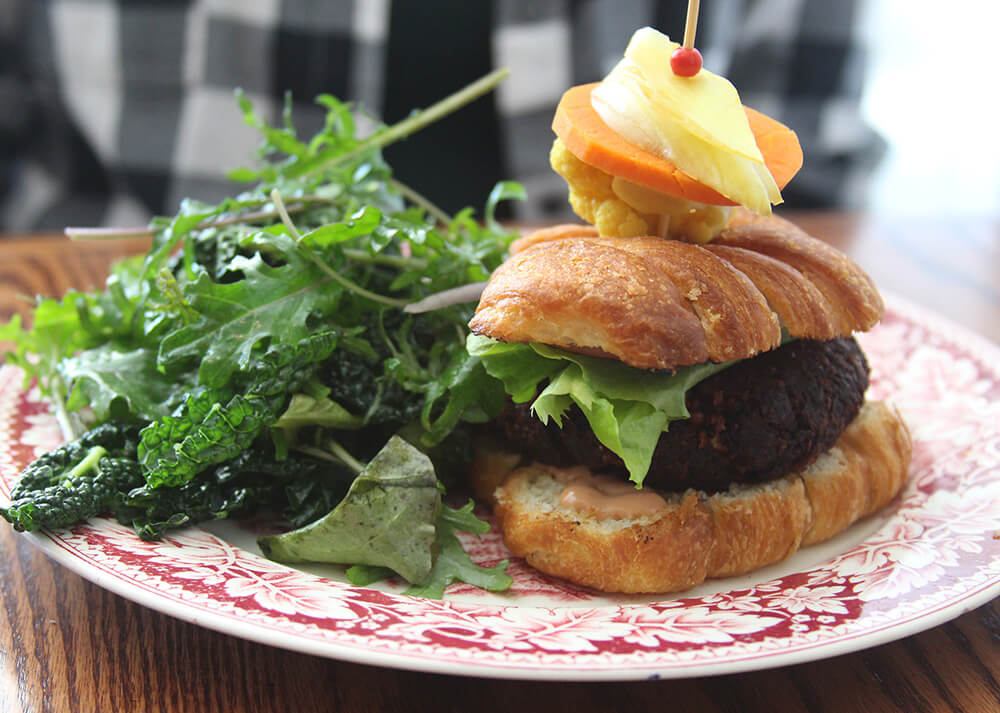 If you check out their website you might notice that they have both the restaurant and catering services. If you are looking to do a wedding shower, work event, wedding, baby shower, etc, they will work with all your requirements. I've been following their instagram account and have seen some photos of some all vegan catering jobs. Thinking about when Jon and I were planning out wedding, this would of been a great options. At the time he wasn't vegan and I was trying to be. Cardinal Provisions would of given us a nice 50/50 menu of vegan and non-vegan options.
Alexa's note: Last note! If you are in the market for a birthday (or any celebratory) cake, they do that as well! A friend of mine ordered a cake from Cardinal for her birthday and it was actually the best cake I've ever had. And it was vegan!! The cake was moist, the frosting was delicious and didn't taste overly sugary…it was sublime.
So we would both recommend this place if you want a fancy lunch out. It isn't a 4 star restaurant, but not quite the place to go for a cheap meal either. If I was staying for vacation in Asbury Park I would recommend checking this place out at least once for lunch or brunch. That being said, for the price range for a lot of the nicer restaurants in this area it isn't that much more.