Shop on
Amazon or Barnes and Noble
With the Christmas season here, there is a good chance you are making cookies. And I thought it would be a good time to try out a bunch of recipes from Vegan Cookies Invade Your Cookie Jar. It is a classic vegan cookbook that covers the topic of… well… cookies. It goes a little further covering bar cookies, brownies, and biscotti. Some of the cookies I made for christmas, and some I've made in the past for daily eating.
Photos
There are lots of photos in this book, I would say about half of the cookies have a photo. All are well lit and beautifully photographed. All the cookie photos are places on brightly colored backgrounds, making the photos very kid friendly (which let's face it, we all remember the joys of cookies as kids.) There are enough photos to spark the reader in making new cookies, but I do have a problem. There are a few cookies that are nicely clipped to have white backgrounds and randomly show up in recipes. For example the Mexican Snickerdoodles show up in the recipe for Chocolate Marmalade Sandwich Cookies. At first I found this confusing, until I noticed the same cookies photo appearing over and over again.
Set-up
The book starts with some cookie basics which truthfully I skipped. I started to read it, but it can be painfully boring to the seasoned vegan baker. BUT it is filled with important information to a new baker. For example, I think my husband could read it and feel more confident about the different flours out there. There is even a section that have various troubleshooting situations. So if your cookie doesn't turn out right, you can fix it.
They divide the cookies up by drop cookies, wholesome cookies, bar cookies, fancy cookies, and roll and cut cookies. When flipping through, it is easy to go from one section to another without ever noticing. I think this is true for all of their baking books. I am not really sure if I care too much about having "sections" or not.
Writing
The book has the usual fun writing styles of Isa Chandra Moskowitz and Terry Hope Romero. They really make you feel comfortable with baking, and make veganism seem less exclusive. They also make you smile for the "fancier" cookies, they aren't that hard, you got this. The directions are easy and to the point, making it easy to tell if I need a stand up/hand mixer or just a big wooden spoon.
Overview
I love this cookbook. All these cookies have been winners, though I wish or rather could see this book being much bigger. Compared to the vegan pie in the sky and the cupcake take over the world, I feel like there are SO many types of cookies that I wish this book could be just a little bit bigger. There seem to be a large amount of drop cookies that used oatmeal. There also aren't many of the classic Christmas cookies that you might find with Christmas tree decorations, or other classic cookies I grew up with. I know they can't cover ALL cookies ever made, but I feel like there are so many that aren't easily interchangeable like how a cupcake can be paired with different frosting to make a new flavor.
But everyone loves the cookies I've been making, and there are so many new inventive flavors. Carrot cake cookies? Grapefruit? Tahini lime? And out of all the cookbooks there are the least amount of "weird" vegan ingredients. Meaning I would feel pretty comfortable giving these recipes to an omni baker, who wouldn't have to go out and buy new ingredients.
Below are all the cookies I made from the book- which is a lot. They are so good, and I recommend buying this book for any vegan who needs to make cookies from time to time.
Banana Everything Cookies
Section: Drop Cookies
Recipe: Veg With Edge
This is probably my favorite recipe from the whole book. These cookies take about 15 minutes to mix, drop, and clean up. It is also very forgiving, so making my own new add ins is super easy. This is why I make them so often, not too sweet, super wholesome, my husband gets these often for his work lunches.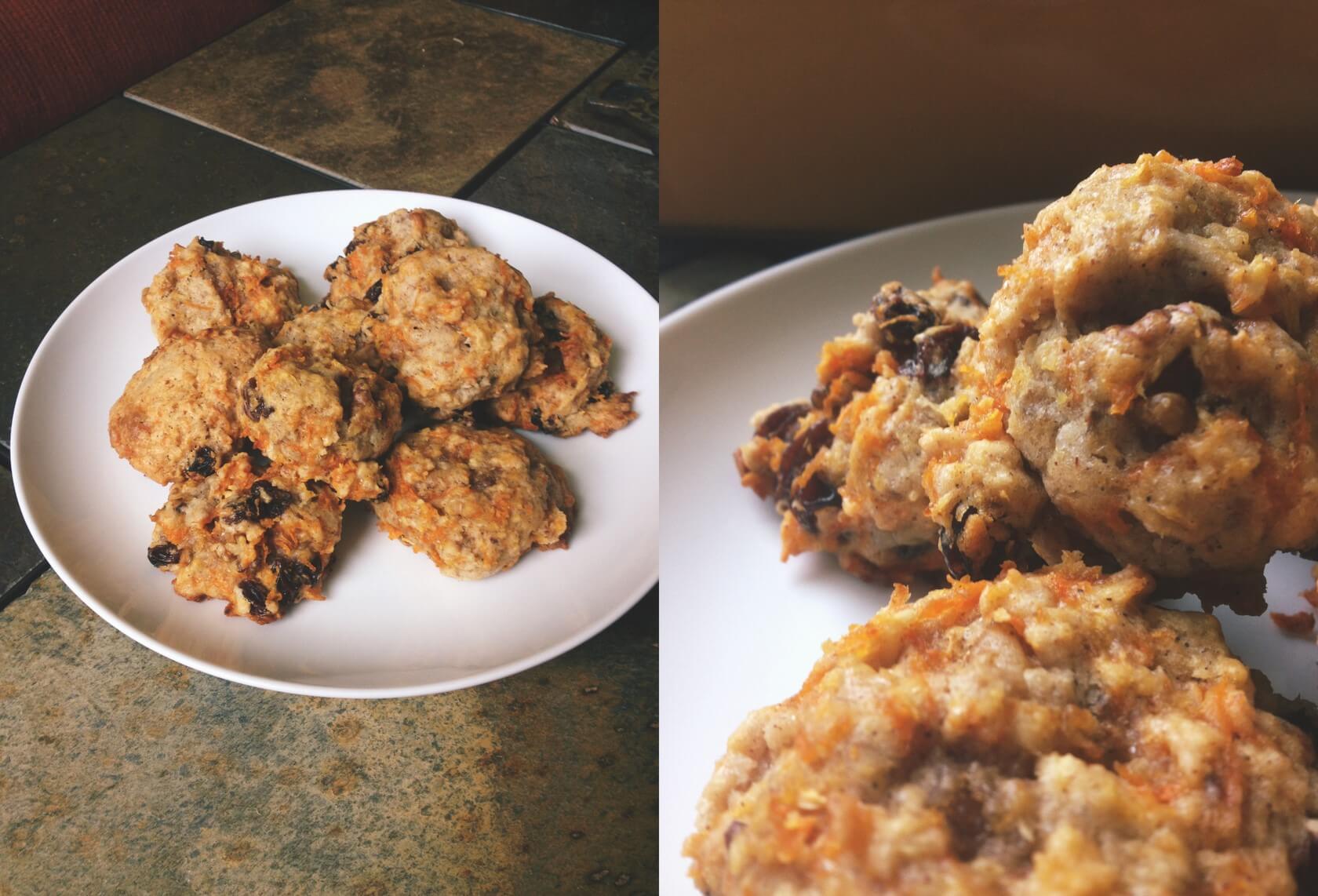 Carrot Raisin Spice Chewies
Section: Drop Cookies
Recipe: Jaclyn's Vegan Yumminess
I get my father in law asks for these cookies all the time. I can safely say these are carrot cake cookies. They aren't very sweet, and the glaze adds to the sweetness. But if you omit the glaze you get a great cookie for a person who isn't into sweets. Simple and fast, the longest/hardest part of the cookies is the grating of the carrot. They were also kid approved by my nieces.
Chocolate Fudgy Oatmeal Cookies
Section: Drop Cookies
Recipe: Frontier Co-op
This recipe I don't love as much as the Banana Everything Cookies, but they are another great easy recipe for a weekday. They are clearly chocolate flavor, and part of the chewie gooeyness comes from the dried fruit in it. I think it adds to the flavor, even if you don't like raisins in your cookies.
Cornmeal Poppy Seed Biscotti
Section: Sliced and Rolled Cookies
These cookies were made for Christmas, partly because they sounded fun and different and partly because I had poppyseeds in the cabinet. The results were super yummy biscotti. The lemon-y poppy cookie had a hint of corn flavor to it. I did find that the biscotti broke fairly easily, but that might of been that I cut the cookie when it was too hot. I would love to make these again, but they weren't as a big hit with friends and family.
Cranberry Walnut Thumbprints
Section: Fancy Cookies
Recipe: Get Green, Be Well
Mixed feelings. I think I might of done something wrong with this recipe, but then again I really haven't made that many thumbprint cookies. My husband said he thought the cookies were too sweet, though some people said it is their favorite. I probably over cooked them, making a too crunchy cookie. Overall, the flavors were solid, and the cranberry was a nice change, but they do not store very long because of the jam filling.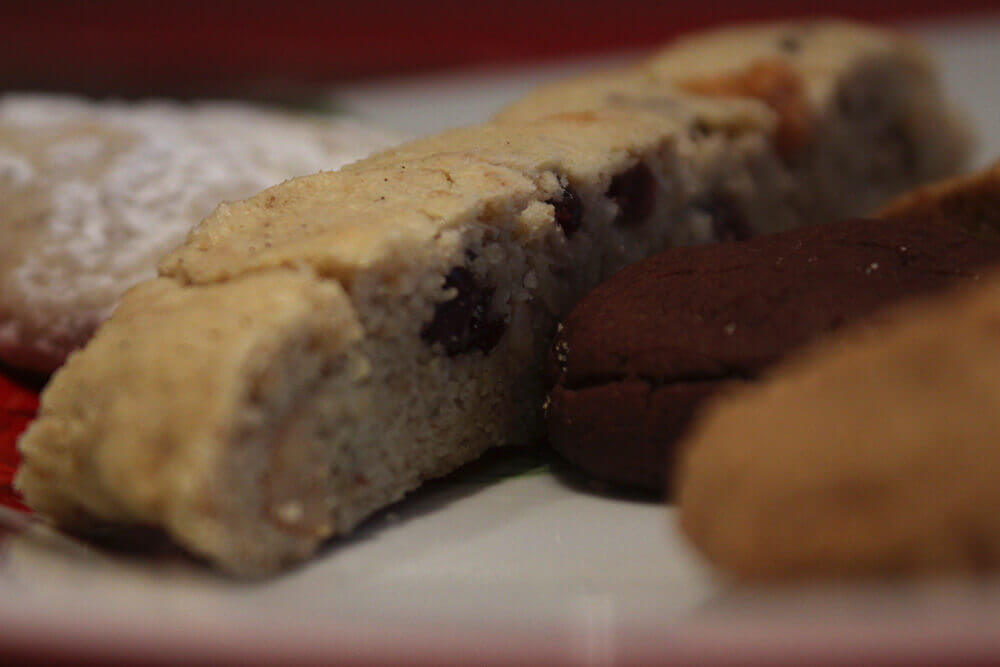 Cranberry White Chocolate Biscotti
Section: Sliced and Rolled Cookies
Recipe: Da Capo Press
I've made these cookies twice, and I love the recipe. I've never actually used white chocolate though since it is something I would have to order specifically online. But luckily the authors acknowledge this and suggest using chopped macadamia nuts, I used cashews. The results are great, and you have the perfect cookie for dunking in your morning coffee.
Mexican Snickerdoodles
Section: Drop Cookies
Recipe: The Post Punk Kitchen
Hmm… mixed feelings about these cookies. I had been dying to try them out but never found the best time. I thought it would be a fun cookie for Christmas, a sort of surprise for people. BUT I think they are just a smidge too spicy. I think I would decrease the cayenne to 1/4 teaspoon. But otherwise they bake nicely and turn out beautiful. Heck you could even just omit the pepper and have normal chocolate snickerdoodle cookies.
Mocha Mamas
Section: Drop Cookies
Recipe: Mocha Mamas
These were probably my favorite out of the batch of Christmas cookies. The cookies are flaky, melt in your mouth yummy, BUT still have a crunchy outside. I ended up skipping the icing out of laziness, but I like it without that extra bit of sweetness. This is something I will make over and over again.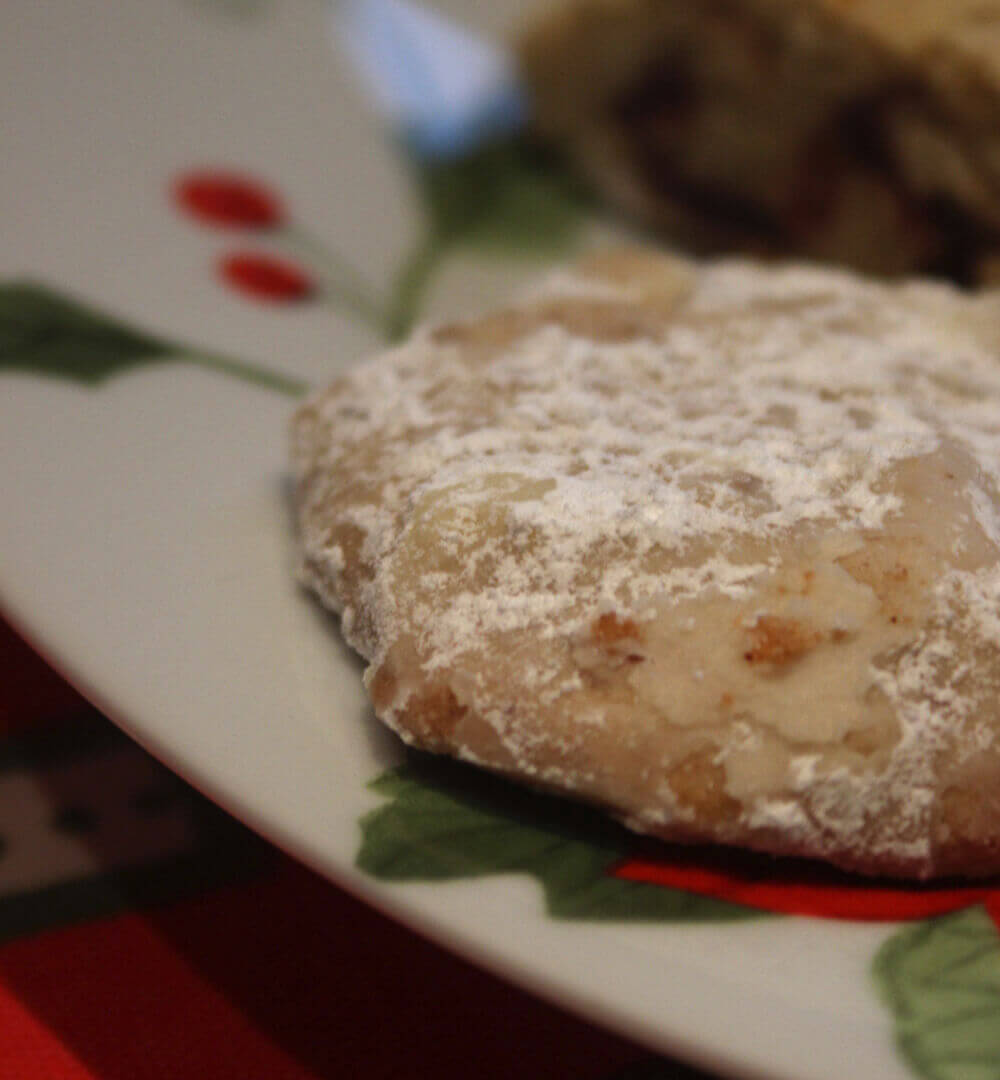 Nutty Wedding Cake Cookies
Section: Fancy Cookies
Wedding Cake Cookies have always been a holiday favorite in my house growing up. I think I might like this recipe more than our original! The cookies are very tender, and have a bunch of fat in them (which is probably why they are so beautifully tender). The powder sugar is messy, but that is just how the cookie ends up being. I use to make them with almonds, but this recipe calls for pecans. There is a recipe modification in the book to use almonds instead.
Peanut Apple Pretzel Drops
Section: Drop Cookies
Recipe: The Post Punk Kitchen
This is another "quick" and "easy" cookie from the book that I like to make. It is a nice sweet and salty cookie that isn't too decadent for everyday. It is a little weird scooping and making, but an quick clean up and a great excuse to get more pretzels.
Peanut Butter Blondies
Section: Bar Cookies
Recipe: The Post Punk Kitchen
Another recipe I make often for my husband's lunch. Sometimes you just want to make one giant cookie and chop it up instead of making lots of spoonfuls. It is a easy blondie to make, and it is on the gooey side, which I prefer. The shopping list is pretty small which makes it ideal for spur of the moment baking recipes.
Peanut Butter Oatmeal Cookies
Section: Drop Cookies
Recipe: Food.com
These are another great everyday cookie. They are quick to make, crunchy, and great for packing in school lunches or adult lunches. This is a cookie we make often at my house because of those factors. They are yummy and a great for kids.
Sell Your Soul Pumpkin Cookies
Section: Drop Cookies
Recipe: Love and Flour
I feel like I was the only one disappointed with these cookies. The texture and bake was fine, unlike the pumpkin cookies from But I Could Never Go Vegan. But there is a time consuming step of cooking the pumpkin down, which wasn't hard, BUT I don't think it enhanced the pumpkin flavor. Bummer. I don't think I will make these cookies again.
Spiced Sweet Potato Blondies
Section: Bar Cookies
Recipe: 6 Bittersweets
I really like this recipe, especially I get so many sweet potatoes from my CSA. I have only cooked this recipe in a pie dish so I know the bake will be different from most other people. But I found it baked nicely, being a little bit more on the dough-y side. But looking at online reviews, it seems a lot of people got a much more gooey result. It is one of my husband's favorite, so take that however you want.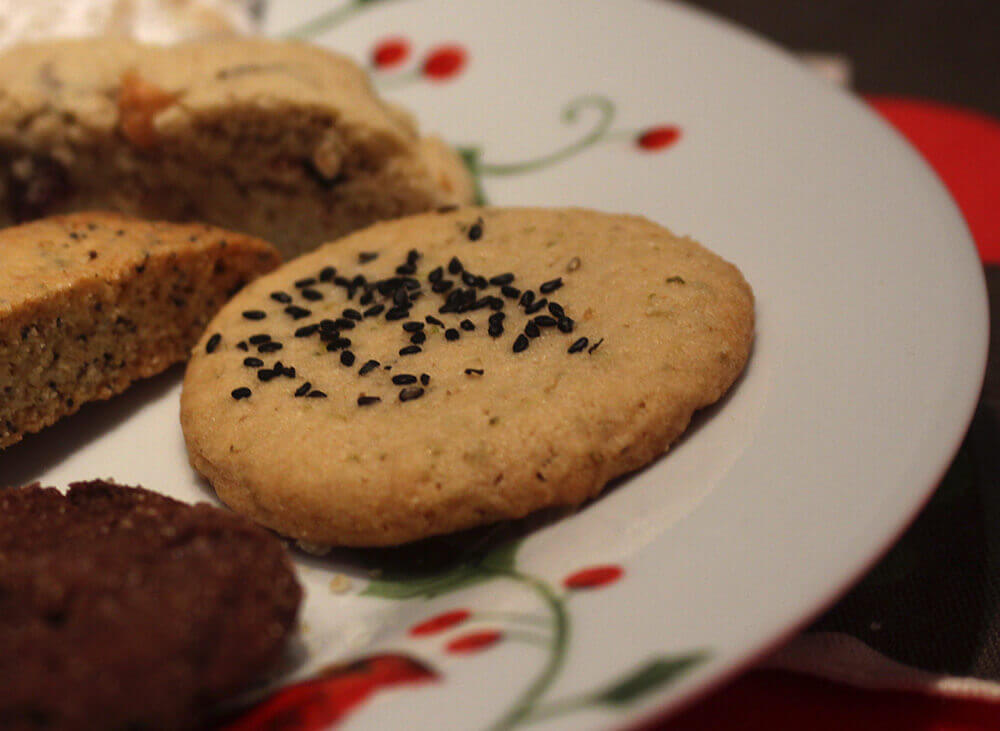 Tahini Lime Cookies
Section: Drop Cookies
Recipe: Frontier Co-op
I loved this recipe. Just a hint of lime and lots of tahini flavor. I personally don't understand why sesame seeds aren't used in more sweets, because they are awesome. This cookie is very filling and I think make a great cookie to include when making several cookies at once. Although I love the flavor, this isn't the type of cookie you will be eating a bunch at once of.