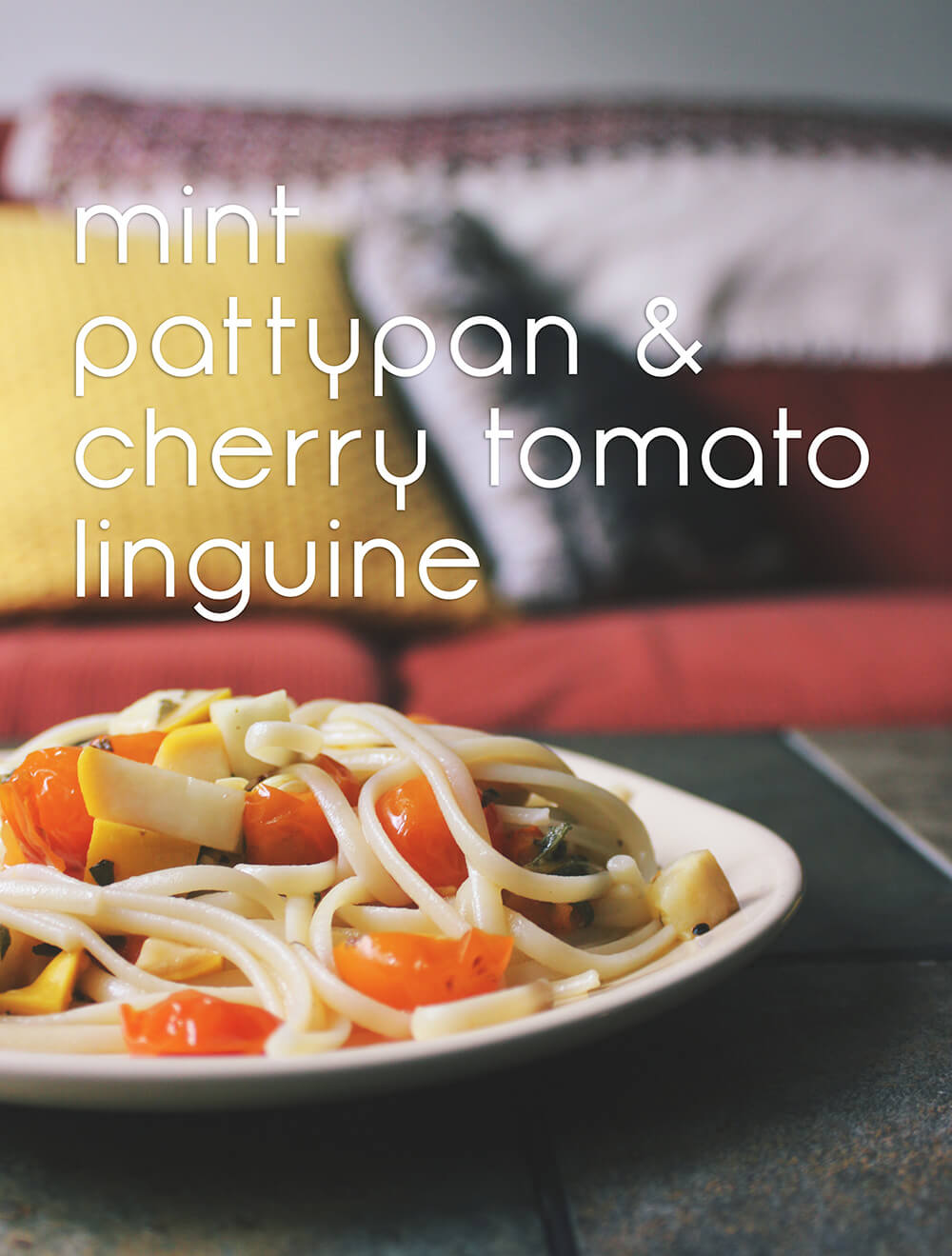 Can I first point out that I got a new camera? I am very excited. I majored in film and video in college so I love total control. I didn't get that with an iPhone. There is so much joy in zooming in knowing the quality will be just the same, and being able to focus on whatever you want. The photos speak for themselves really.
I was so excited when I finally got the memory card for my camera that I started snapping away. This dinner wasn't originally something I was planning on posting, but I think it turned out pretty good. I am hesitant to post some pasta recipes since they are so simple. But a lot of thought was put into which ingredients to use. So I ended up with something that was powerful in flavor.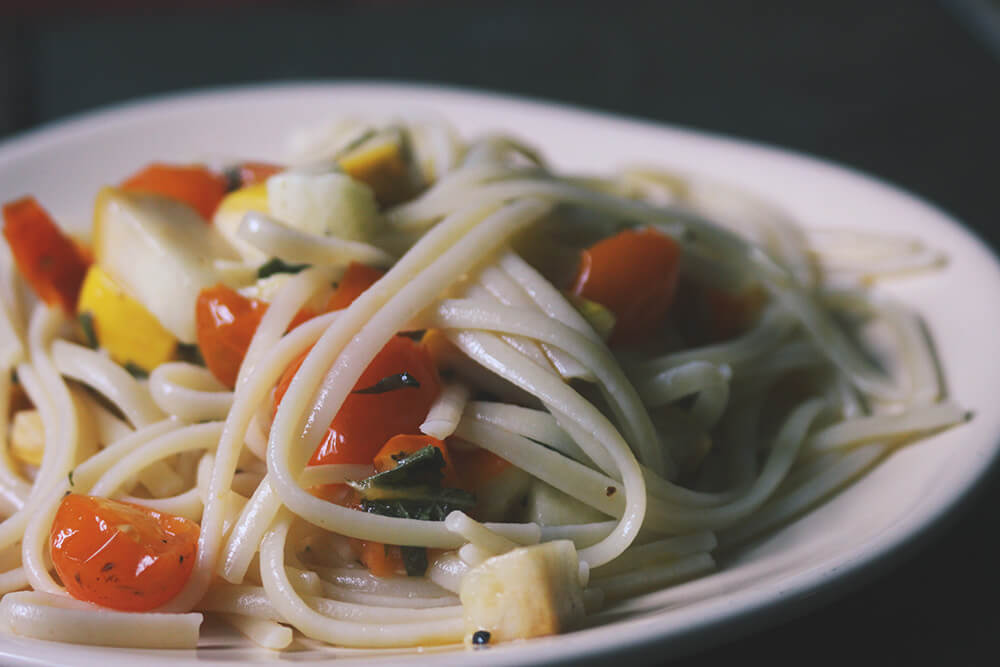 This dinner is pretty easy to put together, especially on a weekday. You can chop and roast the veggies in 30 minutes, and only using about 10 minutes of active time. Let them sit at room temperature marinating. When you get home from work, just boil pasta and toss. As simple as that. The clean up is pretty easy as well.
I was reading in Vegetable Love about pairing mint with summer squash and it sounded amazing. But I thought it might taste pretty great with a little acidic tomatoes. While they sat and mingled, the veggies released some of their juice and created a sauce which I figured would taste great with some pasta. Boom! A simple yet boldly flavored recipe.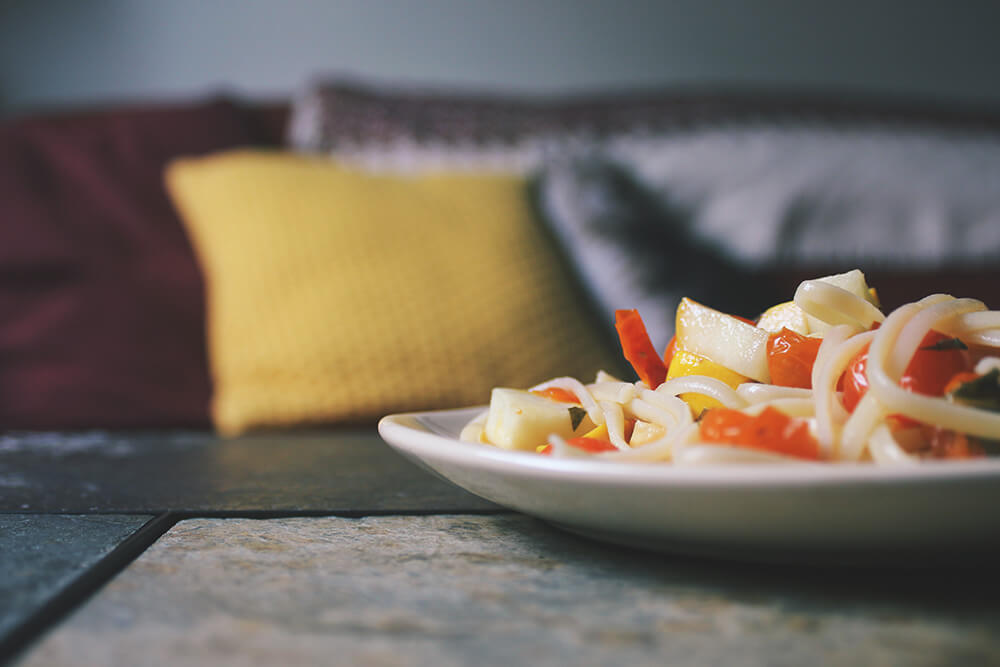 If mint isn't your thing, pretty much any fresh herb will taste great. Basil, rosemary, sage, whatever. Go for it. But I do suggest still giving it a try. My husband hates mint with food. Mint and chocolate is his least favorite. He describes it as brushing your teeth before eating food. This dinner I slyly handed him a plate. After scarfing it down he said it was one of my best dishes. Just saying you might be surprised and won't know until you try it!
It is also worth noting that you don't need to use pattypan squash. You can happily use yellow squash or zucchini. They end result might a slightly more tender squash, which is still really nice. Pattypan squash was what I had in the fridge from the farm, so I used it.
Mint Pattypan and Cherry Tomato Linguine
2014-09-09 06:50:06
Ingredients
1 tbsp olive oil
1 lb patty pan squash* cut in 1/4 inch cubes
1 pint cherry tomatoes halved
1/4 roughly chopped mint**
1 tbsp apple cider vinegar
1/2 lb linguini
juice from half a lemon
Instructions
1 Preheat oven to 425°F
2 Cut squash and tomatoes and place in a large pan. Coat in olive oil and a few dashes of salt and pepper. Place in oven for 10 minutes.
3 Place cooked squash and tomatoes in a bowl with apple cider vinegar and mint. Toss. Let sit for at least 30 minutes up to 8 hours at room temperature. This will let the flavors mingle.***
4 When ready, start a pot of boiling water. Cook your linguini according to the package, drain.
5 Toss veggies with linguini and lemon juice. Serve.
Notes
* This should be about one large patty pan squash. Use yellow squash or zucchini instead if you can't find pattypan.
** If mint isn't in season or your thing, any fresh herb can be subbed, such as basil, cilantro, rosemary, etc.
*** If you have time, I suggest roasting the veggies during the day before work/errands. This will give the maximum amount of flavors.
One Raw Bite https://one-sonic-bite.com/